Breakthrough in breeding sterile salmon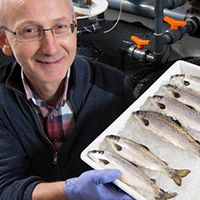 THE Norwegian food research organisation Nofima has cracked the code which will allow salmon farmers to produce sterile fish.
The breakthrough, which has taken more than 10 years to achieve, is not only expected to bring environmental and welfare benefits, but should also help allay contamination fears on wild fish when farmed salmon escape, which has long been the subject of protests by angling and environmental lobbies.
Nofima (the Norwegian Institute of Food, Fisheries and Aquaculture Research) says it has developed salmon that cannot produce reproductive cells.
The work was carried out at Nofima's production plant in Kårvika, in the Troms region, where more than 2,000 sterile salmon are currently floating in tanks.
Senior scientist Helge Tveiten (pictured) said he was delighted with the results, adding that all the signs showed sterile salmon 'were as happy' as any other salmon.
The researchers have found a method that not only curbs the fish's ability to reproduce, and nothing else, but the salmon in the experiment have managed to reach one year of age, with each weighing around 300 grammes.
'The salmon we have bred do not develop sex cells,' said Tveiten. 'There is a very small root bag in the female fish, but no eggs are formed.
'Based on the studies done so far, the sterile fish have the same appearance and characteristics as fertile salmon.'
Tveiten and his team's work led to the creation of a project titled SalmoSterile, which is part of the BIOTEK 2021 programme funded by the Research Council of Norway.
The project is a collaboration with Norway's Institute of Marine Research and several key industrial players, including AquaGen, the largest supplier of eggs to the salmon industry.
Tveiten said the goal of SalmoSterile has always been to find a harmless and unproblematic method of sterilisation of farmed fish.
Tveiten admitted his idea met with some scepticism when he first started out back in 2006.
'Biologically, I knew early on that our goal was a viable one.  Research carried out on zebrafish had identified a few genes that are crucial to the development of the gender cells.
'Loss of one or more of these gene products resulted in a fish without sex cells, but they still managed to develop normally.
'I felt that a similar approach should also be possible with salmon. In practice, we do not touch the genes but we do work on a protein that is necessary for the fish to be able to make genital cells.'
Salmon farmers and egg suppliers now believe this sterilisation method should help to solve many of the current challenges facing the aquaculture industry.
Tveiten believed there may also be commercial benefits as the meat quality of sexually mature salmon deteriorates faster.
He said more research needed to be done, especially on the effect of sterile salmon getting into rivers.
But basically the main issue now was to develop a method of streamlining the operation so the industry is able to handle eggs on a large scale.