Brazilian meat giant set to snap up Huon Aquaculture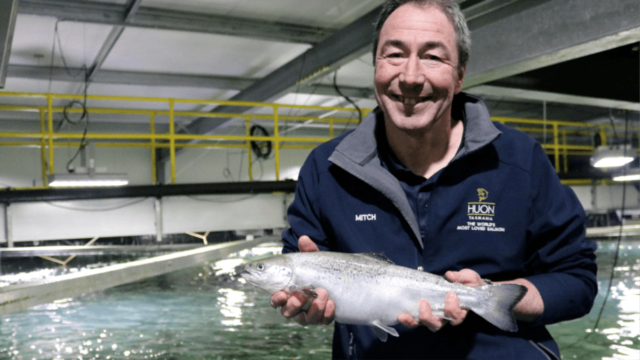 The Brazilian meat processor JBS has entered into an agreement to buy the Huon Aquaculture Group, Australia's second largest salmon farmer.
JBS, which already owns a meat processing business in Australia, will acquire all of Huon's issued shares at a market value of AUS $425m (£225m) or 1.64bn Brazilian Reals.
Huon is based in Southern Tasmania and owned by the Bender family. It started out as an agricultural farming business, switching to aquaculture in 1986. Tasmania was once home to several salmon businesses, but Huon is now the only family owned business left. This year the company warned of losses after several incidents involving loss of stock.
The Huon's board, including major family shareholders Peter and Frances Bender have unanimously recommended that all other shareholders vote in favour of the agreement in the absence of a superior offer.
Huon has invested more than AUS $350m (£172m) over the past five years in state-of-the-art operating infrastructure and sustainable practices in the salmon production cycle. Primary products include fresh salmon fillets, vacuum-packed portioned products, and other value-added products for the domestic wholesale, retail and export channels.
Gilberto Tomazoni, CEO Global for JBS, said: "This is a strategic acquisition, which marks the entry of JBS into the aquaculture business. We will repeat what we did previously with chicken, pork and value-added products – to make our portfolio even more comprehensive."
He said Huon has over 30 years' experience in the fish farming business, which included sustainable production, high technology and superior quality products widely recognised by the Australian consumer.
Salmon farming is an industry with excellent growth prospects, he added, which will provide a new growth platform for JBS customers.
JBS stressed that the deal is subject to customary conditions, including the relevant regulatory, judicial and shareholder approvals. The transaction is expected to be finalised by the end of the year.
Based in Sao Paulo, Brazil, JBS is the world's largest meat processor by sales, producing factory processed beef, chicken and pork.