Bologna PhD student wins EAS Spotlight award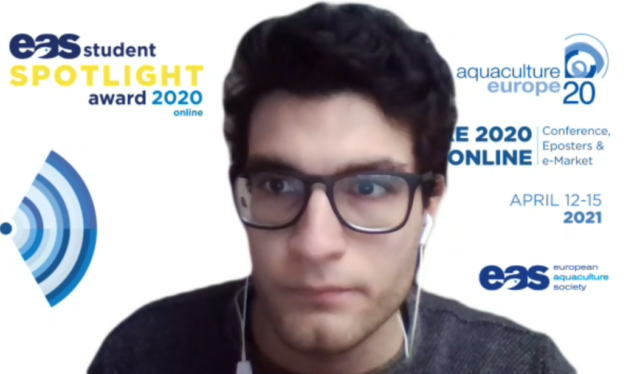 Daniel Scicchitano, a PhD student at the University of Bologna, Italy, has won the European Aquaculture Society's prestigious EAS Spotlight award. The result was announced at the EAS online conference earlier today.
The EAS Spotlight award provided a showcase for three students in the field of aquaculture whose research was selected from a long-list of more than 50 entrants. The shortlisted three presented a summary of their research and findings as part of the online conference, and the winner was selected by a vote of the conference attendees.
Daniel Scicchitano's project compared the effects of low and high lipid levels in the diet of gilthead sea bream, in particular looking at how this interacted with seasonal temperature changes. His study concluded that low dietary lipid levels should be preferred during seasonal temperature changes, in order to optimise feed utilisation and fish welfare.
The shortlisted runners up were Maoxiao Peng of the University of Algarve, Portugal, and Joshua Lustracion Superio of Nord university, Norway.
Maoxiao Peng's project examined the impact of climate change and ocean acidification on bivalve shellfish growth, finding that a change in pH levels in seawater had an adverse effect on the formation of chitin for mussels, but not for oysters.
Joshua Superio's study examined spawning for European sea bass and found that the hormone GnRHa could improve spawning for broodstock.
All three runners up will receive a prize of €300, with an additional €300 for Daniel Scicchitano for his winning presentation.
The EAS conference had been due to take place in Cork, Ireland, but is being run as an online event due to Covid-19 restrictions.