Bluefin tuna freed after raiding Scottish fish farm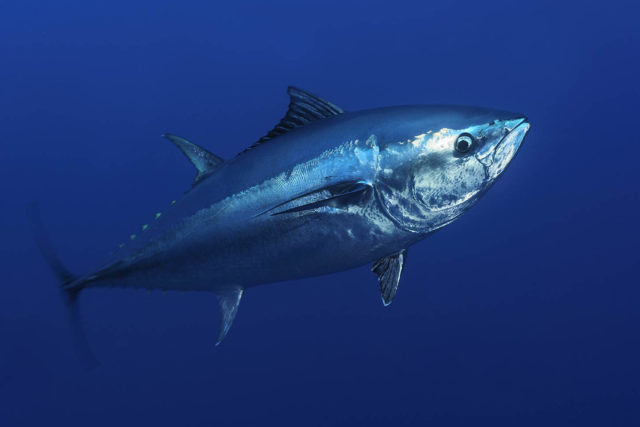 A Bluefin tuna, thought to weigh up to 47 stone (300 kg) has been has been set free after it became trapped in a fish farm in the Outer Hebrides owned by the Scottish Salmon Company.
The huge fish broke through the nets at the Loch Roag site, apparently chasing after mackerel.
The tuna was captured by a member of staff and returned to open water. The company, bought by the Faroese Bakkafrost Group last October, said they found a small tear in the net caused which was made when the predator broke through at speed. The net has been repaired and no salmon have escaped, but the Scottish Salmon Co plans to fit stronger nets to avoid a repeat incident.
Warmer seas have brought a marked increase in the number of Atlantic bluefin tuna operating in Scottish west coast waters in recent years and there have been reports of similar incidents in the past. Atlantic bluefin tuna were once common in British waters but numbers declined steeply between the 1940s and 1990s.
The World Wildlife Fund (WWF) says the bluefin, the largest of the tuna species, is considered an endangered species and are heavily overfished. They are regarded as a very strong predators, which is why one was able to break through the nets at Loch Roag last week.
Able to live for up to 40 years, tuna are particularly prized in Japan where they are used for sushi and can fetch huge prices. One Tokyo buyer paid a record US $3 million for a 612 lb tuna last year.
The WWF fears that stocks are being overexploited and are in danger of collapse unless urgent action is taken.