'Blue Economy' vision for Scotland published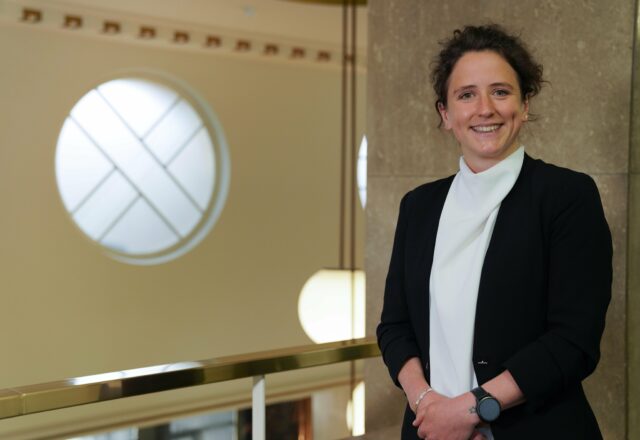 Scotland's ambition for a world-leading "Blue Economy" has been set out in a paper from the Scottish Government.
The document Blue Economy Vision for Scotland defines the concept as "the sustainable use of ocean resources for economic growth, improved livelihoods and jobs, while preserving the health of marine and coastal ecosystem".
It argues that, rather than seeing economic growth and protecting the environment as two incompatible goals requiring a series of trade-offs, policymakers should aim for a "stewardship of natural capital" approach in which the two work hand in hand.
In her foreword to the paper, Rural Affairs Secretary Mairi Gougeon says: "I see the blue economy vision as the beginning of a conversation, to drive forward positive collaborations to deliver action."
The Vision identifies six key outcomes by which the success of the vision can be measured:
Scotland's marine ecosystems are healthy and functioning.
Scotland's blue economy is resilient to climate change, contributing to climate mitigation and adaptation.
Established and emerging marine sectors are innovative, entrepreneurial, productive and internationally competitive.
Scotland is a global leader in healthy, quality, sustainably harvested and farmed Blue Foods.
Thriving, resilient, regenerated, healthy communities have more equal access to the benefits that ocean resources provide.
Scotland is an ocean literate and aware nation.
Launching the paper, Mairi Gougeon said: "Together, we can achieve an ambitious transformation of the value of Scotland's seas as we move from blue economy theory into delivery, driving forward innovative solutions to deliver bold and ambitious change, helping to tackle the twin crises of nature and climate change, bringing real benefits to people and communities throughout Scotland and globally.
"Scotland's seas and coasts support vital jobs across our economy, especially in coastal and island communities providing many goods and services as well as contributing to our overall wellbeing.
"There is potential for an ambitious and inclusive blue recovery for people and nature and the blue economy vision starts us on that journey."
Publication of the Vision marks the start of the work to deliver a collaborative approach for marine related activity in Scotland.
According to the paper, the next phase will be to work in partnership with stakeholders to develop a "blue economy action plan" and a monitoring and evaluation framework, which will begin to set out in more detail the actions and pathways required to achieve change and how this change will be monitored and reported upon. This will include a Strategic Environmental Assessment to describe and test the effect of the vision and outcomes on the environment, as well as other, specific impact assessments.
Dr Lyndsey Dodds, Oceans Recovery Policy Manager at WWF Scotland commented: "Healthy marine ecosystems store more carbon per unit area than terrestrial ecosystems and given that Scotland's seas are six times its landmass, the opportunity our seas present in not just tackling climate change, but also reversing biodiversity loss and feeding a growing population, is clear.
"We know fishing plays an important role in producing the food we need as well as providing livelihoods and supporting coastal communities, so for Scotland to be a global leader in marine management, we need to find ways of lessening its impact, while also protecting and restoring our marine environment."
Tavish Scott, Chief Executive of the industry organisation Salmon Scotland, said: "Salmon plays a vital role in the Blue Economy of Scotland and we are delighted the Scottish Government has not only recognised the role it plays but is committed to backing the sustainable growth of the sector in the years to come."
He added: "Farmed salmon is not only the UK's top food export but is one of the healthiest, locally-sourced proteins around. Salmon producers also play a vital role in maintaining and supporting communities in some of Scotland's most remote areas. We are keen to work with the government to ensure our members continue to get the support they need to ensure Scotland's Blue Economy reaches its full potential."
updated 16:36, 31 March 2022