Benchmark's lice treatment cleared for use in Norway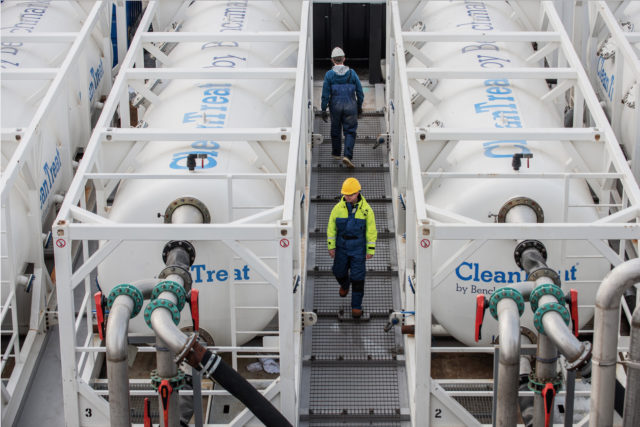 Ectosan Vet, the new sea lice treatment from aquaculture health group Benchmark, has passed a critical legal stage, with a maximum residue limit (MRL) for the chemical adopted into Norwegian legislation yesterday.
The MRL for Ectosan Vet was ratified by the European Commission earlier this year. While Norway is not an EU member, it is part of the European Economic Area (EEA) and the Commission's decision has been adopted into the legislation that covers Norway's EEA Agreement.
This latest legal stage formally clears Ectosan, also known as BMK08, for commercial use in Norway. The treatment is part of Benchmark's potentially game-changing CleanTreat system, but has proven controversial since its key ingredient is imidacloprid, a powerful insecticide that has been associated with the decline of bee populations.
Imidacloprid is banned for most agricultural use in Europe – although it can be used in enclosed greenhouses and as a tick and flea treatment for pets – but Benchmark says that the CleanTreat system removes all traces of the chemical before waste water from the process is pumped back into the sea. Imidacloprid in small amounts is harmless for fish and mammals but lethal for small invertebrates, making it an effective means of controlling pests and parasites, but a potential threat to biodiversity.
In June, the European Parliament voted to reject the Commission's decision regarding the MRL, after the Green Party argued that there can be no safe minimum limit for imidacloprid. If the Commission decides to bow to the Parliament's objections, that will make it all but impossible to deploy Ectosan in the EEA, including Norway.
For now, however, Benchmark's CEO Trond Williksen said: "With the granting of the Marketing Authorisation on 2 July, the MRL ratified by the European Commission and now in Norwegian legislation, we have completed the regulatory steps required to begin the commercialisation of Ectosan Vet and CleanTreat in Norway."
"We are excited to bring this much needed solution to the salmon industry, driving sustainability through improved animal welfare and yield while protecting the environment."