Benchmark signs deal to provide eggs for Premium Svensk Lax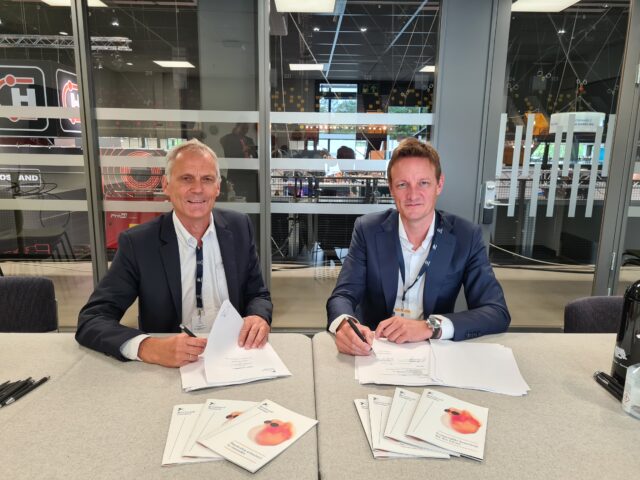 Land-based salmon producer Premium Svensk Lax has reached an agreement with Benchmark Genetics for the supply of eggs for its new farm in Sweden.
The Premium Svensk site at Säffle, Värmland is currently under construction and, when completed, will have an annual capacity of 10,000 tonnes. It is expected to start full-scale production in 2024.
Benchmark, as the sole supplier, will provide genetics from its biosecurity facilities in Iceland for a three-year period, with an option for another two years.
The deal was signed at the Aqua Nor trade show, currently under way in Trondheim, Norway, by Morten Malle, CEO of Premium Svensk Lax and Jan-Emil Johannessen, Head of Benchmark Genetics.
Morten Malle said: "We are working on the groundwork of the plant in Säffle, and the plan is that we will introduce the first eggs in the hatchery in early 2023. Our goal is to bring locally produced, sustainable and healthy premium salmon to the Swedish market. Then we must also be sure that the genetics we put into the plant come from a quality producer that also has a focus on sustainability and biosecurity. I believe we found those qualities in Benchmark Genetics."
Geir Olav Melingen, Commercial Director at Benchmark Genetics, commented: "The plant now under construction in Värmland is based on an exciting concept where processing is also an important part of the plans. Sweden is in a unique position, being able to freely export salmon to a number of countries where Norway encounters trade restrictions. This opens up opportunities for a formidable production growth for when Premium Svensk Lax succeeds, and we want to participate in that journey."
The plant, which can handle processing as well as taking the fish all the way through from hatching to grow-out, is intended to supply 20% of the Swedish market for salmon.
AKVA Group Land Based A/S, a wholly owned subsidiary of AKVA group ASA, has signed an engineering and design contract and will be providing the RAS (recirculating aquaculture system) technology for the plant.
Benchmark has recently signed similar deals with international land-based fish farmer Pure Salmon and Singapore RAS, which is building a land-based farm in the far east.