BC farmers highlight innovation in the industry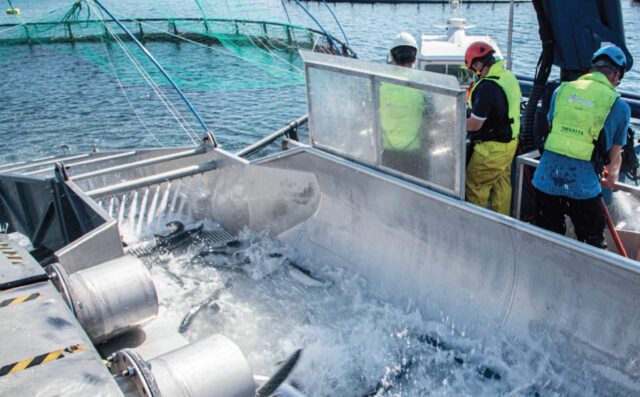 A report from the British Columbia Salmon Farmers Association has highlighted the sector's advances in technology on a wide range of fronts, from ocean-based containment systems to sea lice treatment and clean energy.
The 2021 Innovation and Technology Report Update follows on from an earlier report in 2019, and underlines the industry's case for its defence at a time when the Canadian Federal Government is ordering the shutdown of open-net salmon farms in one of British Columbia's key regions, the Discovery Islands.
The report update highlights the BC salmon farming industry's commitment to environmental stewardship. The report emphasizes new technologies and innovations being deployed at all stages of the salmon production life cycle – from land-based hatcheries, in-ocean farms, to fish processing.
John Paul Fraser, Executive Director of the BC Salmon Farmers Association, said: "Despite the fact the Federal Government's actions over the last several years have led to unprecedented levels of uncertainty and stress for many coastal communities, the salmon farming sector's commitment to British Columbia has never wavered.  Continuous improvement is what our industry is all about and we've been rapidly evolving and innovating for years. We are excited and proud to be releasing this report as it shows our dedication to environmental responsibility, and what innovation looks like today in our sector on BC's coast."
The report update covers eight categories in innovation:
Ocean-based containment systems
Feeding Systems
Net Cleaning Solutions
Sea Lice Prevention Innovations
Sea Lice Treatment Innovations
Fish Health
Processing Wastewater
Clean Energy Adoption
Examples in the report include Grieg Seafood BC's new Skamik 1.5 lice treatment unit (pictured) which is set to arrive in late 2021, and the semi-closed containment system which Cermaq Canada is currently trialling at its Millar Channel site.
The Association said: "With the right support, BC salmon farmers are positioned to be leaders in ocean technology as the sector continues to innovate."