Bakkafrost trebles final quarter operating profit for 2022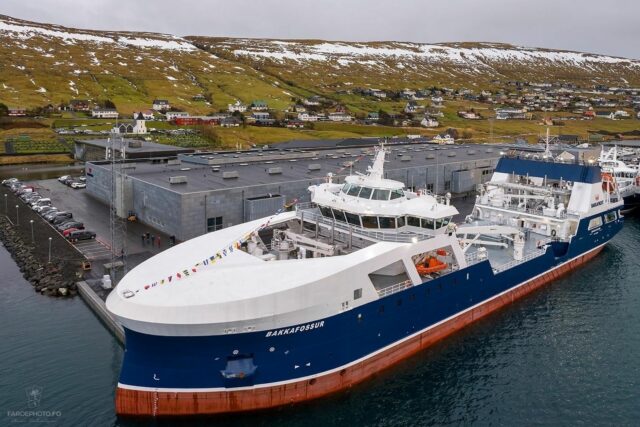 Bakkafrost more than trebled its operating profit or EBIT during the final quarter of last year along with reporting continued progress in dealing with its biological issues in Scotland.
The Faroe Islands fish farmer delivered a total EBIT of 376 million Danish kroner (almost £45m) against DKK 120m (£14m) in Q4 2021. But there were marked differences between financial performance of the company's Faroese and Scotland operations.
The Faroes farming segment produced an operational EBIT of DKK 380m (£45m), up by almost DKK 100m (£11m), while the Scotland farming segment produced an operating loss of DKK 149m (£17.7m). That represented an improvement on a year ago when the loss was DKK 214m (£25.5m).
CEO Regin Jacobsen said overall the company was satisfied with results from the Faroe Islands during the October-December period last year.
He reported: "The salmon market has been strong due to low global supply and the biological performance in the Faroe Islands has been strong with all-time low sea lice levels and historically low mortality.
"Our smolt production in the Faroe Islands receives new production capacity from the hatchery expansions at Norðtoftir and Glyvradal.
"The biological performance in Scotland is still more challenging than in the Faroe Islands, but we are now much better equipped to tackle the challenges and mitigate biological risks in Scotland, e.g. with the new 4,000 cubic metre wellboat in Scotland with dual treatment and freshwater capabilities.
"In second half of Q4 2022, the mortality in Scotland reduced significantly and we decided to reduce harvest to let the fish grow and gain weight and value. As a result, we have harvested bigger fish than ever before in January 2023."
He continued: "We have made good progress with the implementation of our One Company strategy, with which we merge the Faroese and Scottish organisations, building upon the strengths of both.
"Sharing knowledge and best practice is key to us, especially within the farming operation and large smolt production. The latter is very important as we prepare for the release the first batch of large smolt from our expanded Applecross hatchery in Q2 2023."
He also said the arrival in the New Year of the new wellboat, Bakkafossur, in the Faroe Islands with a total capacity of 10,000 cubic metres and one of the most technically advanced vessels of its type, would help prepare the company for offshore farming in the region.
Meanwhile Bakkafrost has also announced that the feed barge which sank after Storm Arwen on the west coast of Scotland has finally been recovered, with the sludge removed for biogas and the barge towed away for a refit. Bakkafrost CFO Høgni Dahl Jakobsen said that no oil or feed escaped from the wreck during the operation. Costs associated with the recovery of the barge amounted to £26m in Q4.