Bakkafrost takes delivery of all-electric workboat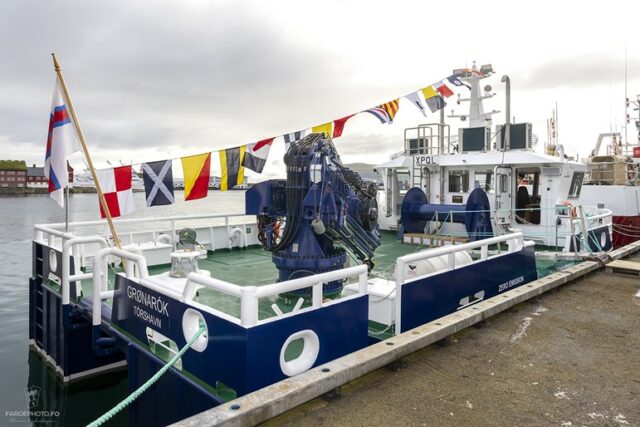 Bakkafrost has taken delivery of its first fully electric catamaran as part of the company's strategy to increase the use of sustainable energy.
The company's CEO, Regin Jacobsen, has used the launch to call for greater investment in the Faroes power grid in order to help wean industry off its dependence on fossil fuels.
The vessel was handed over by the MEST shipyard to the Faroese salmon farmer, which has major interests in Scotland through ownership of the former Scottish Salmon Company.
The all-electric catamaran is the result of an energy project organised by the Nordic Council of Ministers, which aims to find sustainable energy solutions for more remote fish farming areas.
Regin Jacobsen spoke about his company's sustainability strategy and the importance of co-operation between the authorities and the industry if sustainable solutions are to be implemented in the Faroe Islands.
He said: "Co-operation enables dreams and visions to be realised, but they can turn into nightmares if the cooperation does not work or is unorganised. Thus, it is of the utmost importance that we facilitate a land-based grid, which can produce and supply enough green energy."
He added: "We need to co-operate openly and be willing to explore new paths in all areas if we want to make a positive (environmental) impact. There are still many changes that must be made if we are to reach our goals, but currently, things are going too slow, and if we do not start to make courageous decisions, we will be too late".
MEST Shipyard CEO Mouritz Mohr said the electric catamaran will give Bakkafrost employees a more comfortable working day without engine noise or the smell of diesel engines.
Guests at the ceremony included the Faroese Prime Minister Bárður á Steig Nielsen.