Bakkafrost Q4 earnings below expectations, but Scotland improving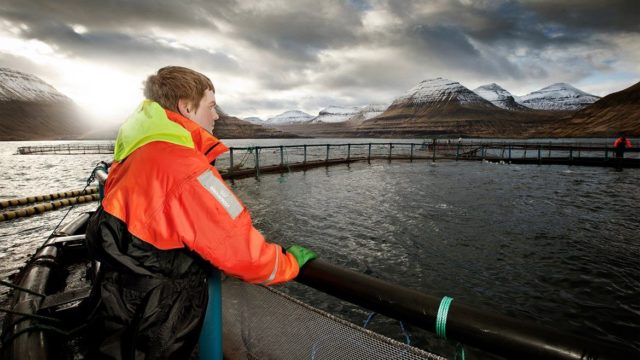 Bakkafrost today unveiled a well below par 2021 fourth quarter operational profit (EBIT) of 120m Danish kroner (£13.5m) as biological problems continued to affect its Scottish Salmon Company business.
But the better news is that mortality rates in Scotland, which have dampened results over the past year, are returning to normal.
Harvest volumes during the October to December period last year totalled 25,800 tonnes – 20,700 tonnes from the Faroe Islands and 5,100 tonnes from Scotland.
The corresponding figures for Q4 2020 were 16,000 tonnes from the Faroes and 9,300 tonnes from Scotland.
Bakkafrost has announced a dividend of DKK 5.14 (£0.58) per share. This will be paid in Norwegian kroner (NOK) as the company is listed in Oslo.
The Scottish farming segment made a Q4 operational loss of DKK 214m (£24m) compared with a loss of DKK 54m (£6m) in Q4 2020.
The Faroes farming segment produced an operational profit or EBIT of DKK 282m (£32m) up from DKK 63m (£7m) a year earlier,
The total harvested volumes for 2021 (2020 figures in brackets) were 97,900 tonnes (Q4 2020: 86,700 tonnes) made up of 67,200 tonnes from the Faroes (Q4 2020: 50,700 tonnes) and 29,700 tonnes from Scotland (Q4 2020: 35,000 tonnes).
CEO Regin Jacobsen said: "The results in this quarter have been negatively affected by the continuation of the biological issues we reported in previous quarter and gave an update on in our profit warning in December. We are now pleased that mortality levels have normalised.
"In the Faroe Islands, we are pleased to have reached record high harvesting volumes in the fourth quarter and for the full year, despite some challenges we are excited to see record low feed conversion rates and record high weight on transferred smolt. Our feed operation also sold very high volumes in both the fourth quarter and for the full year."
He added: "We are convinced that our strategy and investments will reduce the biological risk by ensuring stronger biology, which is crucial to maintain a competitive operation. "
Bakkafrost said the farming operation in Scotland has been very challenged during the quarter. The main cause for the mortality in Scotland, it said, was compromised gill health in combination with secondary complications, such as blooms of micro-jellyfish/hydrozoans and fish handling during necessary treatments.
The report added: "Late in the quarter, the situation stabilised on somewhat elevated mortality rates, which for a few sites remained until end of January 2022."
Freshwater treatment
The company plans to more than triple its freshwater treatment capacity in 2022 with two new wellboats.
These vessels are expected to be in operation in Q2 and Q3 this year, respectively, and will play an important role in mitigating compromised gill health.
The report also said Bakkafrost's implementation of the "large smolt" strategy in Scotland was progressing well and the current expansion phase of the Applecross hatchery is expected to be finalised by the end the year.
The report continued: "By then, the hatchery will have the capacity to produce around 8 million smolt at 250g. Further planned expansion and new hatcheries will increase the production capacity up to more than 18 million smolt of around 500g in 2026.
"In Q4 2021 the average weight of released smolt in Scotland increased 9% to 105g, compared to 96g in Q4 2020. In 2022 the average weight of in the released smolt in Scotland is expected to be around 120g. The real impact from our freshwater investments is expected in 2023."
The biological growth rate in the Faroese farming operation has been strong during the most recent quarter. Also, the feed conversion ratio has been lower than ever before, Bakkafrost said.
However, sea lice levels have been higher than normal which has required more treatments, resulting in higher mortality.
This summer a new 7,000 cubic metre wellboat with freshwater production capability is delivered to Bakkafrost. This will bring a significant uplift of the freshwater treatment capacity in the Faroe Islands.