Bakkafrost commissions all-electric workboat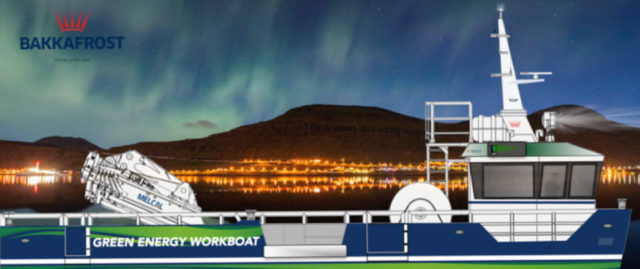 The Faroese salmon farming company Bakkafrost has commissioned a fully electric workboat as part of its mission to reduce the group's carbon footprint.
The groundbreaking contract with the MEST shipyard, which is also based on the Faroe Islands, was signed at Bakkafrost's headquarters at Glyvrar.
The winning concept is a catamaran workboat solely based on electric power from batteries, said the Faroese Environment Agency, which was responsible for the tender process. It can be charged up when power is at its maximum sustainable level.
The tender competition was organised as part of a larger project by The Nordic Council of Ministers and the government of the Faroe Islands.
The purpose was to find power solutions to remote areas of the Faroe Islands which has to produce and use its own green power solutions – and which is not a part of the European power supply system.
Regin Jacobsen, CEO of the environmentally conscious aquaculture company, which also owns the Scottish Salmon Company, said he was pleased with the outcome. He added: "At Bakkafrost we have a goal to reduce our GHG [greenhouse gas] emissions by 50% by 2030. We continuously set ourselves ambitious goals regarding our environmental impact, and thus we are continuously looking for visionary projects that contribute to the green transition.
"With this project we hope to inspire and provide important knowledge to the industry. Ships and boats play an important role in the Faroe Islands, and it is also in this sector that we find the biggest potential to reduce the overall Faroese GHG-emissions. We hope that this project will inspire the industry to begin the green transition of the maritime sector"
The vessel will be delivered by the end of the year.