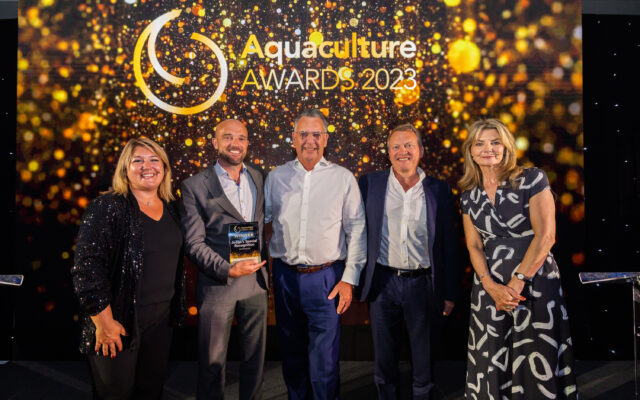 Recognition at the Aquaculture Awards reflects this feed company's achievements
Yorkshire-based feed manufacturer World Feeds Ltd were among the big winners at this year's Aquaculture Awards. Receiving the prestigious "Judge's Special Recognition Award" for the impact their innovative VAF Feed Blocks have been making on the industry with regards to cleaner fish husbandry, health and welfare – while bolstering their effectiveness in combatting sea lice.
Since the 2019 commercial launch of their VAF feeding systems, the company have been embraced across Scotland, with all major salmon producers including Mowi, Bakkafrost, Loch Duart and Scottish Sea Farms now converted to their diets and feeding strategies as part of their cleaner fish care.
"To be recognised for the hugely positive effect our diets are having on fish health and welfare within the industry is an honour." says Managing Director, Peter Kersh. "We've become well-established and trusted within the sector and have our sights set on bringing our unique approach to nutrition and animal welfare into hatcheries."
As part of that hatchery initiative, World Feeds have developed miniaturised versions of their feed blocks to cater to the smaller juvenile fish. Operations such as Ocean Matters and Otter Ferry in Scotland noted that this early-stage exposure helped to train the fish to graze on feed blocks, leading them to habitually gather at depth to feed – as opposed to on the surface, as with pellet dispensers. Ingraining this behavioural conditioning at an early stage acclimates them to do so when deployed in the sea pen, ultimately increasing their contact time with salmon and, by extension, sea lice.
The company have further plans, with larval and broodstock diets on the horizon.
"We are committed to playing our key part in the continued development of the industry, improving fish nutrition and welfare." says Kersh.