Atlantic Sapphire share issue raises $121m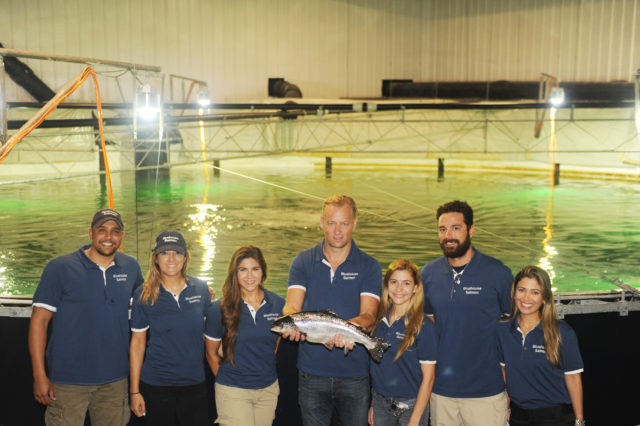 Miami-based salmon farmer Atlantic Sapphire has successfully raised US $121m (around £85.6m or NOK 1bn) to help fund its growth plans.
The company issued 10.3 million shares at a price of NOK 98.60 ($11.87 or £8.40 at current rates) in a private placement.
Atlantic Sapphire had engaged broker Arctic Securities, together with Bank of America and DNB Markets, to complete the mission which was mainly directed towards Norwegian and international investors. The share issue was oversubscribed.
Atlantic Sapphire said the net proceeds will be used to part-finance completion of the construction of Phase 2 with its expected capex of US $210m plus $15m towards certain investments that will benefit expansion beyond Phase 2.
The statement continued: "The remaining financing requirement of Phase 2 will be covered through already existing debt facilities of $150m, comprised of $38m committed facilities, $98m uncommitted accordion facility and, as of Q1 2021, an undrawn RCF (revolving credit facility) of $20m plus $$15m for certain investments that will benefit expansion beyond Phase 2, and general corporate purposes.
Looking ahead, Atlantic Sapphire said the operational challenges it encountered in the United States during the earlier part of this year were being addressed.
It added: "The implemented measures are all on track with the tanks having new centre drains installed; five out of six grow-out systems having been split; the electrification of the chiller plant being on track; the drum filter area, ozone and protein skimmers fully commissioned; and Batch 2 experiencing low maturation."
It has been a difficult few months for Atlantic Sapphire. In March it reportedly lost up to 500 tonnes of salmon following technical issues at the Miami site, blaming problems in the cooling system among other matters.
A month later it severed its connection with the Danish RAS supplier Billund Aquaculture for the second phase of its Miami development.
Shares fell to $9.30 (£6.58/NOK 76.90) in April, but had climbed back to $11.40 (£8.07/NOK 94.69) by the end of last week.