Atlantic Sapphire Q1 harvest down as losses mount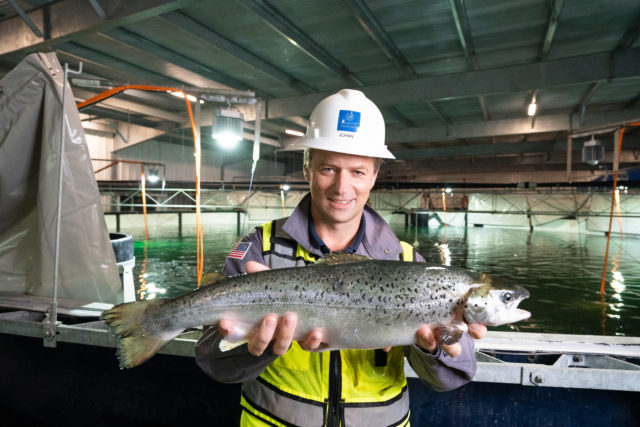 Land-based salmon producer Atlantic Sapphire has unveiled less-than-spectacular harvest figures in its 2021 first quarter trading update.
The company, best known for its Miami Bluehouse salmon says just 721 tonnes were produced during the three month period, 421 tonnes from Florida, USA and 300 tonnes from Denmark.
The company was hit by technical issues in its RAS (recirculating aquaculture system) in Miami towards the end of March which cost the company at least 500 tonnes in lost fish.
Atlantic Sapphire has also released its annual report which shows net losses of US $55.2m, compared to a net loss of $13.2m in 2019. Revenues for 2020 totalled $6.3m against $5.5m in 2019. The EBIT or operating loss was $46.6m against $33.8m in 2019.
The company is still at a relatively early stage with its "Bluehouse" Florida project, and, like other producers, it has been struggling with the pandemic's negative impact on salmon prices.
In addition to its 2,400 tonne land farm in Hvide Sande, Denmark, Atlantic Sapphire's  "star" site is its land facility at Homestead in Florida where production is planned to rise from 10,000 tonnes  to 25,000 tonnes in a couple of years and to well over 200,000 tonnes by 2031.
Commenting on 2020, chairman and CEO Johan Andreassen said it had been a challenging year for everyone but the company came together and proved its resilience as a team and a community.
He added: "As fish farmers, our key milestone of 2020 was the USA's first commercial harvest in September 2020.
"A decade-old dream of farming salmon on land in the end-market is now reality, and since then, we have been sending fresh, delicious salmon out to consumers across North America every week. "
Andreassen said 2020 was a year of construction and biomass build-up: "We saw relatively low harvest volumes in the USA and DK (Denmark)  while we were building up biomass to reach steady-state production.
"With large infrastructure value, patented access to the unique aquifers of Florida, and a significant biomass on the balance sheet, we have started 2021 as a full scale Bluehouse salmon producer, ready to expand even further what is already by far the world's largest land-based fish farm. "
Andreassen also welcomed increased interest from investors and other stakeholders during the year, adding that Covid-19 had not distracted from Atlantic Sapphire's commitment to reduce its carbon footprint and protect the environment.
Two weeks ago the Bank of America delivered an upbeat report on prospects for Atlantic Sapphire. According to the Norwegian website TDN Direkt, the bank gave it a "buy" recommendation. Alexander Jones, an analyst at Bank of America, highlighted the benefits of land-based farming which he says means fresh fish with lower prices, for US consumers.