Atlantic Sapphire expected to focus on Florida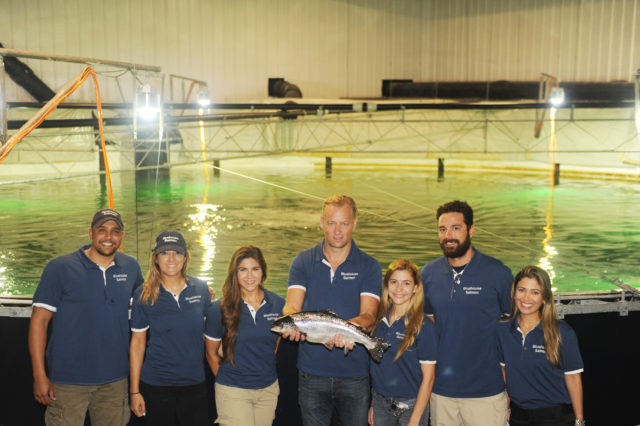 Land-based salmon farmer Atlantic Sapphire is circling the wagons around its Florida operation, following a major fire two days ago which all but destroyed its Danish land farm.
Investors believe the likely insurance settlement of around US $33m will be ploughed into its new land farm project now under construction near Miami, thus avoiding the embarrassment of a new share issue.
Important though it was, Denmark was always going to play second fiddle to the company's ambitions for Florida.
However, the company's shares are still down by 20% on the Oslo Stock Exchange and the situation remains brittle to say the least.
CEO Johan E. Andreassen tweeted yesterday: "Heartbreaking to see a decade of game-changing innovation gone. Today, we're relieved that there were no injuries and send our love to the team in DK. We're proud to see the legacy of all the hard work in DK in the US, where the rest of AS is focused on one thing: EXECUTION!"
Atlantic Sapphire has suffered a catalogue of serious incidents since the beginning of the year, although many of these look like sheer bad luck.
They included various technical problems and the just recently loss of biomass when the company was temporarily faced with a shortage of liquid oxygen due to a surge in demand from US hospitals under pressure from coronavirus.
The fire struck early yesterday at the Hvide Sande building in Denmark, part of which was built less than 10 years ago. Now only the smolt plant remains intact.
All the fish at the facility, probably worth around £23m, have been lost, but the biomass at the site was lower than normal when the fire occurred. This was the second incident at the Danish site this summer.
Industry analysts are saying that any money from the insurance settlement will be sent to shore up the US project, in which the company still has great faith.
The RAS sector in fish farming is generally under some pressure, and other businesses in that field will be watching developments at Atlantic Sapphire closely.