ASC trains auditors to meet Asian demand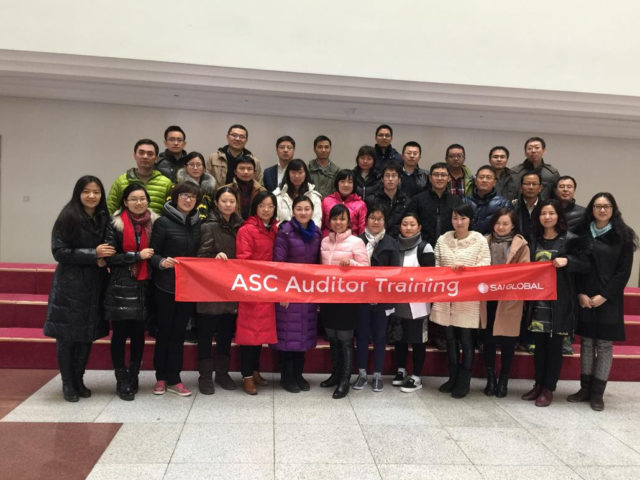 THE Aquaculture Stewardship Council (ASC) has trained 35 new auditors in China in response to the demand for certification across Asia.
During the six-day training course, held in Beijing from January 4-9, certifying body SAI convened a group including other certification bodies SGS, Bureau Veritas, Intertek, a number of independent auditors, and staff from WWF and Tesco to undertake training for the ASC shrimp, tilapia and bivalve standards.
All ASC training includes a mandatory exam to test the auditor candidate's understanding of the standards.
A traceability module was also provided by MSC on Chain of Custody Requirements for certification, which are now included in the ASC's new Certification and Accreditation Requirements.
'This auditor training will allow us to meet the groundswell of demand for ASC certification throughout the Asian region,' said Bas Geerts, Standards Director at ASC.
'The overwhelming majority of farmed fish comes from Asia and ASC is expanding operations so more Chinese farms have the opportunity to become engaged in the ASC certification programme.
'The recently trained auditors will be able to work with farms across the region as they seek to become certified against the most comprehensive standards for reducing environmental impacts, improving conditions for farm workers and reducing the impact of farming operations on local communities.'
Of the 35 candidate auditors, 26 were trained in all three species standards. On successfully passing the final exam administered by the ASC by appointed trainers, they will be able to conduct independent assessments in China and other countries across the Asia-Pacific region.
Over the last two years, ASC certification has surged in Asia. AEON, the largest retailer in Japan, recently made ASC certified shrimp available across all stores nationwide.
In Hong Kong, YATA collaborated with KLG Fine Food to promote a limited-time, exclusive range of ASC offerings.
Late last year, Qionghai Zhongpingzi Grobest tilapia farm and Chengmai Xingyuan Development Co become the first Chinese farms to achieve ASC certification.