Arnarlax chooses ScaleAQ Aasgaard feed fleet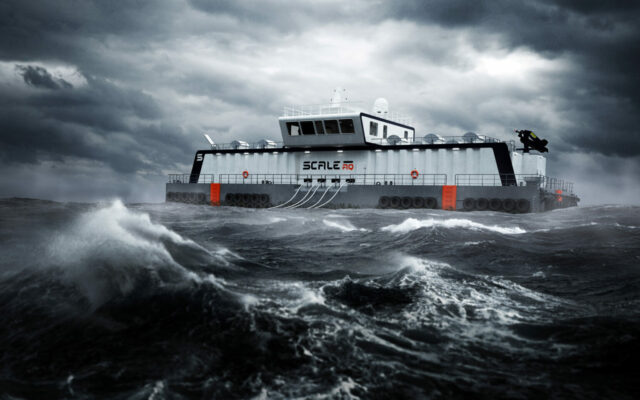 Icelandic salmon farmer Arnarlax has chosen a ScaleAQ modular Aasgaard series for its latest feed barge fleet.
The craft is built to withstand a "significant wave height" of as much as 5.5 metres (in practice, this means waves up to 11 metres high) and has a storage capacity for up to 900 tonnes of feed.
However, the solid construction and special bottom means that the rafts can be certified for use in locations with and even greater significant wave height of up to 6.5 meters (13 metre high waves). In addition, the fleet has silo section modules, which means that the fleets can be delivered with a loading capacity for feed in 150 tonne intervals from 300 to 1,200 tonnes.
Arnarlax CEO Björn Hembre explained: "We are used to operating in open and exposed locations. In order to gain access to more production space, we are now establishing ourselves further out in the fjords. That means greater trials from weather, wind and sea."
Arnarlax is part of the Norwegian SalMar group which has a 50% share in Scottish Sea Farms.
ScaleAQ, Sales Director North Atlantic, Tor Henrik Haavik, said: "Arnarlax is at the forefront when it comes to new technology, and they are keen to protect the environment, the fish and the people they work with.
"This fleet has room for 900 tonnes of feed, and the total loading capacity is 1,500 tonnes. In a location off the beaten track, the high capacity is important.
"This means, for example, that they can have 900 tonnes of feed, in combination with both 120 tonnes of silage and 200 tonnes of ice coating on the fleet – without the fleet becoming unstable."
The fleet is the first in the Aasgaard series from ScaleAQ, a modular concept designed for exposed locations and offshore farming.