AquaGen reports large profit rise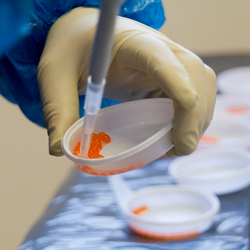 Aquaculture broodstock group AquaGen saw its pre-tax profits almost double over the past year, the company has reported.
AquaGen is based in Norway, but has overseas offices in Stirling, Scotland and Chile.
Turnover for the financial year 2021/2022 totalled NOK 672.2m (£55m) against NOK 531.4 million (£43m) in the previous period. This represents an increase of 26%.
The profit before tax rose by 94.8% to NOK 219.1m (£17.8m) compared with NOK 112.5m (£9.2m) 12 months earlier.
AquaGen describes itself as a research-oriented breeding company that develops, manufactures and supplies genetic starting material and fertilized roe to the global aquaculture industry.
The company annual report said that during the financial year, AquaGen had built up biomass in its land-based production in order to be well equipped for export to new markets.
The facilities owned by the subsidiary AquaGen Scotland have been further developed during the year, the report says.
AquaGen faced extra costs related to the handling of lice in Norway in March last year, which included extra preventative measures.
It reports: "The company is continuously working on a strategy for optimal handling of lice on its own fish in the sea."
Looking ahead, the company was upbeat about the future and it expects a similar or improved profit for the financial year 2022-2023, particularly in Europe where a large share of sales is from production in the UK, through AquaGen Scotland.
It says the underlying development of the business overall is good, as are the prospects for development in the coming years.