Aquaculture trainees shortlisted for ALBAS awards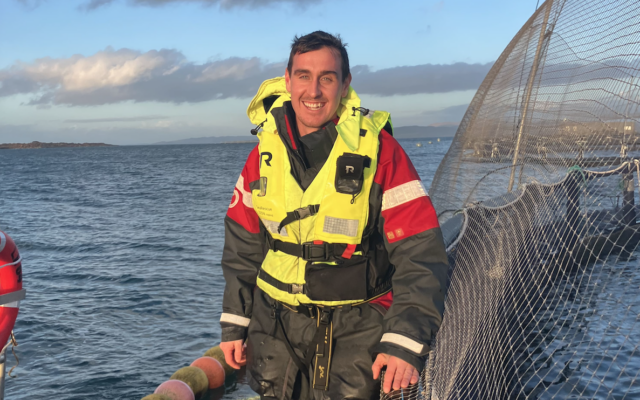 Two aquaculture trainees, from Bakkafrost and Scottish Sea Farms, have been shortlisted for Lantra Scotland's Awards for Land-based and Aquaculture Skills (the ALBAS).
The awards, which take place on Thursday 9 March in Dunblane, recognise training and education excellence in land- and marine-based farming.
Craig Johnstone, from Tarbert in Argyll & Bute, has been doing a Technical Apprenticeship in Aquaculture through UHI Shetland, while working as a Site Manager for Bakkafrost Scotland.
He said: "Coming from Tarbert and having family involved in aquaculture, it was natural for me to follow in their footsteps. I love the community culture of the industry and there is so much to learn. My apprenticeship has taught me to reach for my goals and helped me overcome all the challenges that have come my way."
Lori Smith, from Bixter in Shetland has been doing a Modern Apprenticeship in Aquaculture through UHI Shetland, while working as a Fish Technician for Scottish Sea Farms.
She said: "I was born and brought up in the Shetland Islands, where aquaculture is one of our core industries, so naturally I developed an interest in the sector. I love how varied my role is and how each day is different. Every day you are aiming to provide the best care for the fish, which is very rewarding."
Lantra Scotland is a charity which works to increase the number and diversity of employees in the land-based, aquaculture and environmental conservation sector, and drive their skills development.
Industry categories at this year's ALBAS include agriculture, aquaculture, equine, game and wildlife, horticulture, land-based engineering and trees and timber.
As well as prizes for Overall Winner, Runner-up and Modern Apprentice of the Year, there are also prizes for Higher Education, School Pupil and Secondary Schools, CARAS (Council for Awards of Agricultural Societies), a Mentor award for inspirational tutor, the Tam Tod Trophy and the Anna Murray Award for Partnership Working.
Finalists for ALBAS 2023 were selected by an independent judging panel made up of influential figures from across the land-based and aquaculture sector, chaired by Keith Paterson of Forestry and Land Scotland.