Aquaculture stars in awards shortlist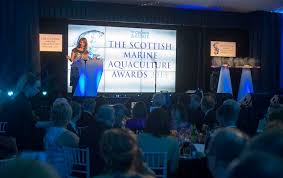 THE high achievers of Scottish fish and shellfish farming have been named in the shortlist for the 2018 Scottish Marine Aquaculture Awards.
Some 38 companies, individuals and initiatives have made the shortlist for the awards, run for the first time by Aquaculture UK.
The organisers have been overwhelmed by both the number of entries and standard of the submissions received.
The awards are a unique opportunity to recognise individuals, companies or organisations that have made the most significant contribution to the UK's aquaculture industry since 2015, when the awards were last staged.
A range of companies – from start-ups to established names – and their representatives have made the final shortlist, with nominees chosen on the basis of their high standards of innovation, responsibility in their approach to business and their environmental sustainability.
The winners will be announced at a special ceremony, hosted by Dougie Vipond, on May 23, during the Aquaculture UK 2018 exhibition in Aviemore.
The awards include prizes for innovation, business development, stewardship and sustainability, and there will be an inaugural set of awards recognising the contributions made by the shellfish sector and the industry's rising stars.
Entries were encouraged from individuals, companies and other organisations involved in the UK aquaculture industry, no matter how large or small, who:

Employ the highest standards of aquaculture husbandry
Supply aquaculture products to local, national and international markets
Farm with a high level of environmental awareness and deliver a high-quality product
The Best Aquaculture Company Award will be announced on the night and the industry can vote online for the People's Choice award from the list of nominees, https://www.aquacultureawards.com/vote/. The winner of this award will also be announced at the awards presentation.
Susan Tinch, event manager, Aquaculture UK, said: 'This shortlist reflects the spirit of enterprise and the commitment to excellence that characterises the UK aquaculture sector. We would like to thank all those who entered and congratulate those who have made the shortlist.
'The quality of the entries across all the categories this year was exceptional and the judges took over a day to deliberate, before selecting the final nominees.
'The Scottish Aquaculture Marine Awards have established themselves as a key date in the industry's calendar and Aquaculture UK is delighted to provide a platform highlighting all the excellent work taking place. We are all looking forward to a fantastic night on May 23.'
The Scottish Marine Aquaculture Awards 2018 shortlist:
Aquaculture Seafood Product of the Year
M&S Scottish Lochmuir Beetroot & Vodka Speybay Oak Smoked Salmon, Scottish Sea Farms
Native Hebridean Farmed Salmon, The Scottish Salmon Company
Moules Frites, Scottish Shellfish Marketing Group Ltd.
Wester Ross Sashimi Grade Salmon, Wester Ross Fisheries Ltd.
 
Finfish Farm Manager of the Year
Robert Wyvill, Marine Harvest (Scotland) Ltd.
Sarah Last, Scottish Sea Farms
Sean Anderson, Marine Harvest (Scotland) Ltd.
Paul Featherstone, Marine Harvest (Scotland) Ltd.
 
Shellfish Farm Manager of the Year
Carly Daniels, National Lobster Hatchery
Will Hancock, Fowey Shellfish Company Ltd.
Robert Lamont, Loch Ryan Oyster Fishery Company Ltd.
 
Aquaculture Supplier of the Year
Ace Aquatec
NAFC Marine Centre, University of the Highlands & Islands
Inverlussa Marine Services
AKVA group Scotland
 
Business Development Award
AKVA group Scotland
Scottish Sea Farms
Nutrition Analytical Service (NAS), Institute of Aquaculture, University of Stirling
 
Community Initiative Award
The Scottish Salmon Company – Community Fund
Loch Ryan Oyster Fishery Company Ltd – Stranraer Oyster Festival
Marine Harvest (Scotland) Ltd – Isle of Rum development initiative
Scottish Sea Farms – Heart of the Community Trust, funding on Orkney
 
Rising Star Award
Lynne Frame, Scottish Sea Farms
Scott MacKay, AKVA group Scotland
Barbora Gaborova, Wester Ross Fisheries
Kurk Jones, Marine Harvest (Scotland) Ltd.
 
Outstanding Contribution to Industry
Stuart Cannon, Kames Fish Farming
Stewart Graham, Gael Force Group
Steve Bracken, Marine Harvest (Scotland) Ltd.
Scott Landsburgh, Scottish Salmon Producers Organisation

Stewardship & Sustainability Award
Marine Harvest (Scotland) Ltd. – Helping to restore wild salmon stocks
Loch Fyne Oysters Limited – ASC-certified Hebridean mussels
National Lobster Hatchery – Lobster Grower 2
Scottish Sea Farms – a series of environmental improvements
 
Innovation Award
Playtime – environmental enrichment in a salmon hatchery – Loch Duart
Lobster Grower 2 – lobster on-growing system – National Lobster Hatchery
Enviro Nets for circular pens, as a means to tackle gill health issues, Marine Harvest (Scotland) Ltd.
Pre-pump, in-water electric stunner, Ace Aquatec

The remaining two awards – the Best Aquaculture Company and People's Choice – will be announced on the night.
The awards are sponsored by the Crown Estate, MSD Animal Health, AFEX, Hendrix Genetics, Skretting, Acoura, EWOS, Scottish Salmon Producers Organisation, Scottish Aquaculture Innovation Centre, Elanco and Benchmark.