Aquaculture 'benefits the planet' says UN chief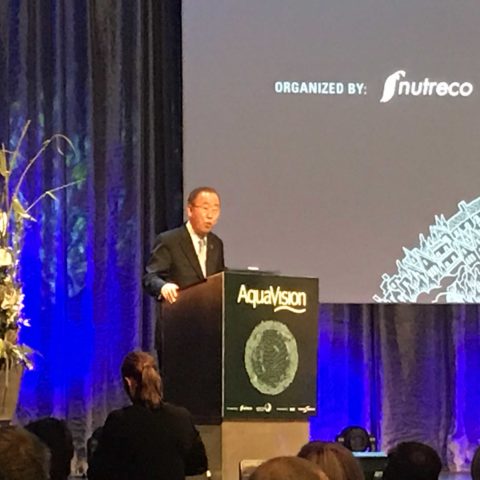 THE world is going through pronounced changes which will have implications for aquaculture businesses, the former UN secretary-general Ban Ki-moon told delegates at the AquaVision conference in Stavanger yesterday.
During his keynote speech, he outlined challenges to the post Second World War international order, saying 'protectionism and tariffs are being advanced and populist nationalism is threatening democracies…and our climate continues to drastically change'.
But the aquaculture industry is 'laudably responding to changing global trends', such as climate change, the state of our oceans, population growth and urbanisation.
'I salute your sustained efforts in this regard,' he said. 'I also applaud your driving sense of social responsibility in pursuing growth and profits in step with the international community's collective efforts to achieve SDGs (sustainable development goals) and reduce your carbon footprint.
'Healthy oceans are essential for sustaining a healthy planet and healthy lives. Your industry is extremely important for international efforts to conserve and carefully manage our oceans and seas.'
Aquaculture is now the fastest expanding sector of food production, accounting for almost 50 per cent of the world's fish that we consume, according to the FAO. This directly combats overfishing and helps enhance global food security and progress on the SDGs, said the former UN chief.
The UN's sustainable development goals promote responsible economic growth and social inclusion. But the involvement of the private sector, including aquaculture professionals, is necessary if all 17 goals are to be delivered.
He recognised that aquaculture, in helping to combat food insecurity, has alleviated poverty and improved diet, trade and employment around the world.
'As close to 90 per cent of our oceans' fishing stocks are full or overfished and over 20 of the world's top 30 fish consuming nations are categorised by the United Nations as low income food deficit countries.
'Thus aquaculture's prominent role will surely continue to grow and benefit both our planet and our people.'
Ban Ki-moon told the audience -some 450 participants from 45 countries – of the need to work together to 'change the world'.
The aquaculture industry is 'centrally positioned' in an age of global innovation and interconnectivity of people, businesses and cultures.
'Continue to play your part in helping the United Nations achieve its sustainable development goals. Keep striving to sustainably expand global food production, go further in the sharing of essential knowledge and best practices and continue a strong cooperation, both within your industry and outside of it in a manner that transcends borders for the benefits of our oceans and our planet.'
The conference, which has drawn the CEOs of companies from Australia, New Zealand, Chile, Norway, the Netherlands, China, and beyond, will be addressed today by Crown Princess Victoria of Sweden.