AquaBounty's genetically-engineered harvest nets $783,000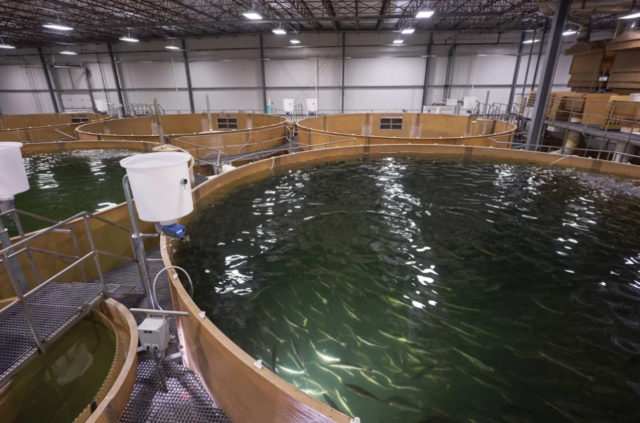 The first commercial-scale harvest of genetically-engineered (GE) salmon has been a success, according to US-based producer AquaBounty Technologies.
The company, which rears GE salmon in land-based RAS (recirculating aquaculture systems) facilities, has reported harvest revenue for the full year 2021 of US$783,000.
During Q4 of 2021, the company harvested 91 tons of GE Atlantic salmon and generated $340,900 in revenue from the sale of 101,700 pounds of salmon to customers.
Sales of non-transgenic eggs and fry increased to $76,700 in the fourth quarter and totalled $391,800 for the full year.
The company reported a net loss for the year ended 31 December 2021 of US$22.3m (2020: US$16.4m). This, AquaBounty said, was due to the growth in headcount, production expenses and third-party processing and transportation costs at the farms, as well as increases in corporate and marketing expenses.
AquaBounty's "AquAdvantage" fish are Atlantic salmon that have had elements of Chinook salmon and another fish, ocean pout, added to their genetic makeup, for better growth rates and more efficient feed conversion.
The company operates two farm sites, on Prince Edward Island, Canada and in Albany, Indiana in the US. During Q4 the company received approval from the Board of the Toledo-Lucas County Port Authority for the issuance of up to US$300m in municipal bonds to support the construction financing for its planned farm in Ohio, which at 10,000 tonnes will have around eight times the capacity of the Indiana farm.
The bond placement is expected to take place within the next three months and the company hopes to start stocking salmon eggs at the Ohio site from late 2023.
Sylvia Wulf, Chief Executive Officer of AquaBounty, said: "Commercial interest in our nutritious salmon, which is free of antibiotics and other contaminants, has been impressive and we continue to receive orders for the entire output from our farms."
She added that: "…we are extremely confident in the market acceptance of our salmon and will strive to create long term value for our shareholders."