AquaBounty reports revenue up 44% for Q3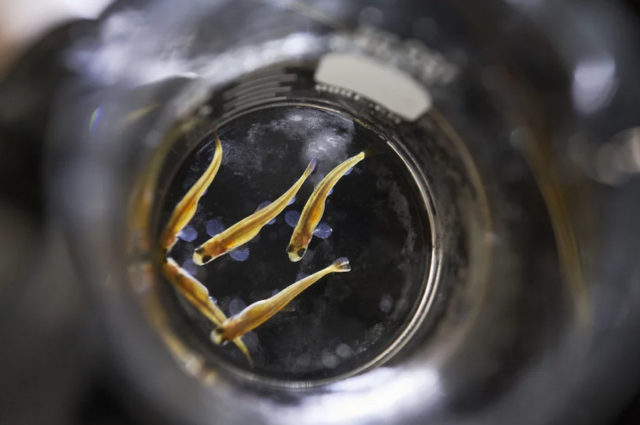 Land-based salmon farmer AquaBounty saw revenue up 44% year on year for the third quarter of this year, to US $653,000 (£563,000).
The company has yet to turn a profit although, at $5.4m for Q3 (£4.7m) compared with a loss of $6.9m (£6m) for the same period in 2021, it is heading in the right direction. Net losses for the year to date (nine months to 30 September) were $16.1m (£13.9m), representing only a very slight reduction compared with the first nine months of 2021 ($16.3m, or £14.1m).
AquaBounty produces genetically modified (GM) salmon under the brand name "AquAdvantage". The fish are Atlantic salmon with genes from Chinook salmon and ocean pout added, for improved feed conversion and growth rates.
AquaBounty has also reported that its new farm site in Pioneer, Ohio, has been granted a "withdrawal and consumptive use" permit for water use. The Ohio site is currently under construction.
Sylvia Wulf, Chief Executive Officer, said: "Throughout the third quarter, AquaBounty continued to see strong demand for our salmon from seafood distributor customers.
"We once again sold everything we could produce, which combined with improvements in our yields, drove a 44% year-over-year increase in third quarter revenues to $653,000. Additionally, our production operations are seeing the benefit of the salmon biology expertise that comes from the scientists and technicians throughout our organization. Their understanding of the interaction between salmon biology and the RAS environment in which our fish grow has enabled us to begin to increase our production efficiency and reduce mortality risk at our Indiana farm, which is realized through increased harvest yields. These learnings are reflected in our harvest success to-date and have been critical to identifying process and design improvements for our future farm in Pioneer, Ohio."
She added that inflation in the US meant that the plant was set to cost more than the estimated $320m (£276m), but its production capacity is also likely to exceed the planned 10,000 tonnes per annum.
Wulf concluded: "Looking ahead into 2023, we believe the need for land-based salmon that is farmed efficiently, sustainably and profitably will continue to rise as consumers opt for cleaner proteins that take the pressure off fully fished or overfished fisheries. With ongoing market validation, the scale-up of harvests and sales at our Indiana farm, and construction at the Ohio farm all well underway, we are very optimistic for our shared future and progress in the months ahead."