April salmon exports hit new heights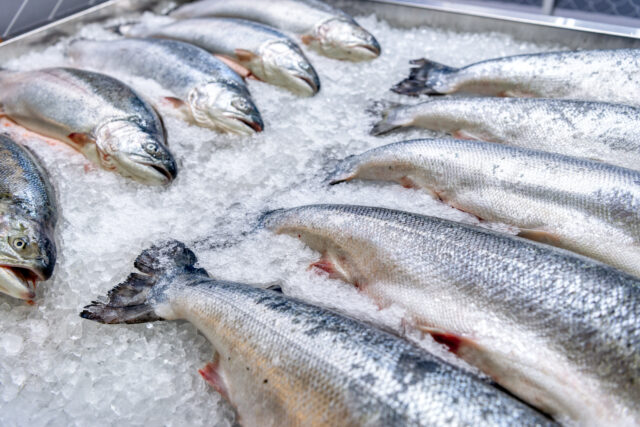 Soaring salmon prices sent the value of Norwegian seafood exports to new heights last month.
The country's fishermen and fish farmers sold fish and shellfish of all types worth NOK 11.3 billion (£964m) during April – 33% higher than the same month last year.
Although most fish species have risen in price over the past year, salmon was once again the star performer despite a 3% fall in volumes.
Sales of the popular pink fish totalled 82,500 tonnes and were worth NOK 8.1bn (£697m), an increase of NOK 2.4bn (£204m) or 43% on April 2021.
The Seafood Council's new CEO Børge Grønbech, said prices increases for salmon, cod, trout and haddock were the biggest contributors to value growth last month.
He made the following points:-
Food prices are rising sharply globally, which contributes to rising prices for Norwegian seafood as well.
There is a lower supply of important fish species, both from Norway and other countries.
Reopening of hotels and restaurants increases demand from well-paying buyers.
During the pandemic, several people learned to cook more seafood at home. This trend continues for several species, even now after the reopening of society in important markets.
Seafood Council analyst Paul T. Aandahl said although Poland, France, and Denmark remained the largest markets for salmon, processing in Poland was continuing to decline while sales to Italy, the United States and Britain were increasing. Higher shipping costs had affected sales to Japan and South Korea.
The value of fresh cod exports dropped by 32% due to lower landings. The sales value dropped by 5% to NOK 363m (£30m).
Frozen cod sales, for which the UK and China are among the main markets, were also down, but the value increased. Exports were worth NOK 323m (£27m), up by 4% or NOK 12m (£1m) on a year ago.