Another GOAL from Scottish Ace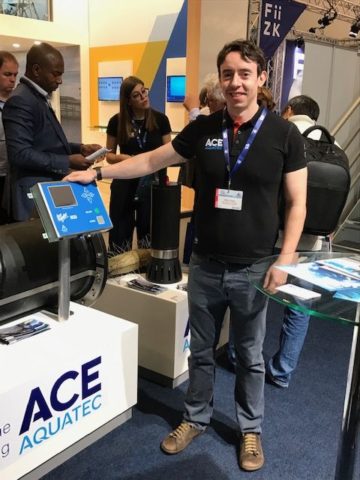 SCOTTISH firm Ace Aquatec was announced winner of the Innovation Award at the Global Aquaculture Association's GOAL conference in Chennai, India, today.
The Dundee based aquaculture supplier beat two other finalists after a presentation of its electric stunning technology by sales and marketing manager Mike Forbes secured 51 per cent of the audience vote.
The Humane Stunner Universal (HSU) is an in-water electric stunner that consists of a water-filled pipe lined with electrodes which render the fish unconscious without removing them from the water.
The innovation reduces fish stress, improves flesh quality and can double the volume of fish processed per hour.
The GOAL prize is the latest in a series of honours for Ace Aquatec, which won innovation awards at Aqua Nor in 2017 and at the Aquaculture UK awards in 2016, as well as two prestigious Queen's Awards for Enterprise Innovation, in 2018 and 2019.
Runner up in Chennai was an American company that has successfully brought wood into the fish feed chain. Arbiom, based in North Carolina with a pilot plant in Norton, Virginia, has converted wood residues into a single cell protein for use in fish diets.
And third was Pegasus Science of Brazil, which has developed technology to better measure fungal toxins affecting aquafeed.
All three finalists presented their innovations at the conference, which ends tomorrow, in front of an audience of around 500 industry leaders.