All the news in the latest Fish Farmer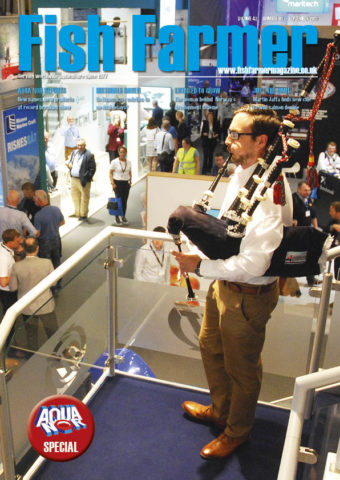 THE size and ambition of the aquaculture industry was very much in evidence at the recent Aqua Nor exhibition in Trondheim – and now you can read about it in the latest issue of Fish Farmer.
We bring coverage from the greatest event in the fish farming calendar, with reports on new products and services, an insight into the innovations of today and their promise for tomorrow, and interviews with some of the people shaping the future direction of aquaculture.
The Fish Farmer team spent four days in Norway and tried to talk to as many of the 700-plus exhibitors as possible.
Highlights in our September magazine include the Norwegian Directorate of Fisheries' Anne B. Osland's views on development licences, which she has overseen, and how they will drive forward Norway's farm expansion.
Also looking ahead are the pioneers of the huge Norwegian processing ship, Norwegian Gannet. Fish Farmer spoke to the ship's owner and its designer about the potential of the vessel – and the fleet they plan to build – in salmon farming countries, including Scotland.
And we hear, too, from the operator of Hirtshals, the Danish port which could offer a haven for Scottish salmon exports if there is a no deal Brexit.
Brexit was, of course, one of the subjects discussed at the packed Scottish supply chain seminar, held during Aqua Nor, and addressed by Scotland's Rural Economy minister Fergus Ewing. We feature contributions from the key players in the Scottish supply chain – and report on their success in Trondheim.
Elsewhere in September's issue, international seafood journalist Nicki Holmyard writes about a film competition focusing on women's roles in aquaculture worldwide.
And also not to be missed are our regular columnists, Nick Joy, the SSPO's Hamish Macdonell, and Martin Jaffa – who this month reveals his groundbreaking new theory on the decline of wild salmon stocks.
To read all these stories and more, see the link below. Printed copies of the magazine will be sent out to subscribers later this week. For more information, contact the editor, Jenny Hjul (jhjul@fishfarmermagazine.com).
https://issuu.com/fishfarmermagazine/docs/fish_farmer_september_2019