All aboard for February's Fish Farmer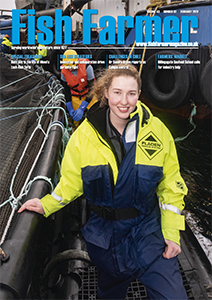 IN this month's Fish Farmer we have a special report on Scotland's biggest salmon farmer, Mowi. In the depths of January, our team visited the company's headquarters in Fort William and from there were taken on a tour by communications director Ian Roberts.
The first stop was the new Inchmore hatchery in Glenmoriston, where manager Matthew Paget explained how the RAS system is helping provide Mowi's seawater sites with robust smolts.
And then we headed to Loch Alsh farm, near Skye, to be welcomed by manager Kendal Hunter, who guided us around the pens, answered questions about the Thermolicer in operation at the farm that day, and gamely posed for Fish Farmer photographer Angus Blackburn.
Earlier, we talked to Mowi oceanographer Philip Gillibrand about how he and his colleagues are using sophisticated computer modelling to help the company expand its business into more sustainable locations.
This month also features a 20-page focus on sea lice, the salmon sector's number one challenge. We hear from leading vet Ronnie Soutar on the progress being made by farmers to improve pest management.
And we round up some of the most innovative new sea lice solutions and preventative measures coming on to the market, while from Chile, Dr Sandra Bravo provides an expert's perspective on caligus control.
Elsewhere this month, our shellfish specialist Janet Brown reports from a recent conference in the Netherlands, Martin Jaffa questions the animal welfare credentials of anti-salmon farm campaigners, and Nick Joy gives us more food for thought on fish feed.
To read more, just click on the link below. Hard copies of the February Fish Farmer will be posted to subscribers later this week.
https://issuu.com/fishfarmermagazine/docs/fish_farmer_february_2020