Aker Solutions signs up to offshore project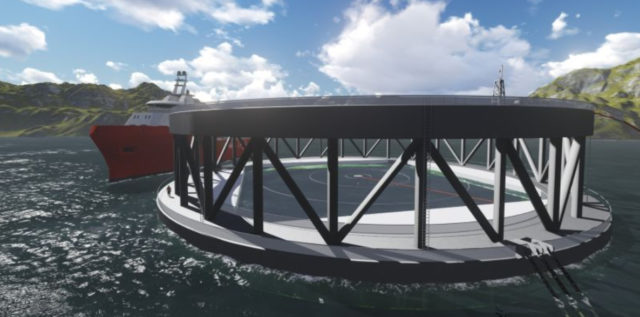 Aker Solutions has signed a contract with Arctic Offshore Farming, a subsidiary of Norway Royal Salmon, to help deliver an ambitious ocean-based fish farm project.
The contract is worth NOK 40 million (£3.4 million). Aker Solutions says it has identified fish farming as a market with several interesting prospects and, together with NRS, it has developed the design for Arctic Offshore Farming's harsh environment installation.
This deal means that the company will now also make its first delivery of such facilities.
Karl-Petter Løken, executive vice president, renewables at Aker Solutions said: "We will leverage our expertise and capabilities from the oil and gas industry also in other markets. Our ambition is to grow our renewable projects and low-carbon solutions to count for one third of the revenues by 2025, and two thirds by 2030. We are currently pursuing prospects within offshore wind power, carbon capture, fish farming and several other solutions."
He added: "The new contract shows that we can be a relevant and competitive contractor for such markets."
Arctic Offshore Farming's facilities are currently being prefabricated as four separate sections at the Fosen Yard in Emden, Germany. During the first quarter 2021, the modules will be transported on a barge to Aker Solutions' specialized yard in Verdal where the four sections will be assembled to make two circular fish farming units.
Knut Engene, senior vice president, projects, at Norway Royal Salmon explained: "Arctic Offshore Farming is a development project by Norway Royal Salmon and is an important project for further growth and to maintain NRS as one of the world's leading producers of farmed salmon.
"It is a project that will bring us into the future for facilitating environmentally sustainable salmon farming further out at more open sea. "
Aker Solutions' scope includes preparatory activities for the fabrication, receipt of components, assembly, services to Arctic Offshore Farming and their suppliers, as well as preparation for sea transport. Each of the two fish farming units weighs about 3,800 metric tonnes, has a diameter of 80 metres and a height of 22 metres.
Preparations for the project start in early 2021. The activity will be at its highest in April and May when around 50 employees will be working on the project. The fish farming units will be installed at the Arctic Offshore Farming location outside Tromsø in Northern Norway.