Ace firm wins innovation award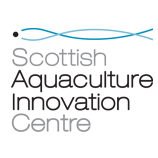 SCOTTISH company Ace Aquactec was awarded an Aquaculture Innovation Award at a gala dinner on the first night of the Aquaculture UK exhibition and conference in Aviemore.
The Dingwall based company has pioneered a range of cutting edge equipment, from seal deterrents to processing systems.
Ace Aquatec's Nathan Pyne-Carter picked up the Scottish Aquaculture Innovation Centre (SAIC) sponsored award from CEO Heather Jones.
The innovation prize for the best small company went to Deep Trekker, for its underwater mini remotely operated vehicles, which are finding a growing market in the aquaculture sector.
'Day in, day out, we're seeing and hearing about an increasing number of innovative initiatives by industry,' said Jones.
Today, SAIC will be presenting its Aquavation Sessions in conference tent one at the Aviemore show. These will look at a number of advances in the industry, and new approaches to challenges such as sea lice and waste management.
In the final presentation of the day, former Marine Harvest managing director Alan Sutherland will discuss early feedback to SAIC's initiative for an Aquaculture Centre of Excellence.
Sutherland will be canvassing industry opinions on the centre over the next few months, with the aim of producing a report by this summer.
'I want to make sure everyone has a voice – I don't want to exclude anyone so the report is not time constrained but the target is July,' he said.