A passion for salmon – SEPTEMBER FISH FARMER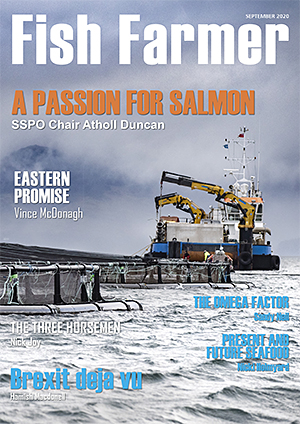 The September issue of Fish Farmer magazine has just been published and our feature interview this month is with the Chair of the Scottish Salmon Producers Organisation (SSPO) Atholl Duncan. In a wide ranging piece he looks at the challenges and opportunities presented by covid, as well as taking a look at Brexit, the industry's detractors and the future of salmon farming in Scotland.
We also have his colleague Hamish Macdonell's Brexit thoughts, an interesting article from Dr. Martin Jaffa on the genetic differences (or not) between farmed and wild salmon and another excellent piece from Nicki Holmyard on present and future seafood.
All of this and much more can be found by clicking on the link HERE