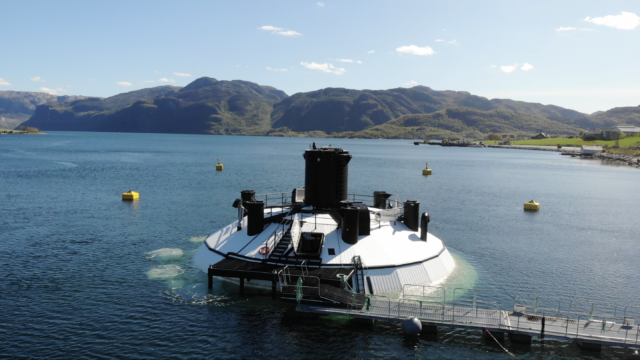 The innovative closed floating fish farming system FishGLOBE is proving its excellence
FishGLOBE, the ground-breaking closed floating fish farming system has now been in operation for two generations outside of Stavanger, Norway and the results are better than its developers could have imagined. The technology is also giving fish farmers the tool they need for sustainable growth!
FishGLOBE is a fully closed fish tank for salmon, design to produce postsmolt (up to 1kg). The first commercial version is 3500m3 and has a capacity of 75 kg/m3 – higher than any other closed system.
The hope and aim in designing and building the globe was to help the industry to handle some of the big challenges: achieving better fish welfare, eliminating lice or the need for lice treatment and preventing escapes. As a bonus, the system also enables collection of the sediments, therefore reducing the environmental impact on the fjords.
The globe is built in polyethylene (HDPE), a strong and flexible material. It is a complete closed unit – the top is covered – and gives high HSE (health, safety and environment) and welfare for the operators all year long.
There are six inlet pipes taking water from a deep level, below the sea lice belt. The flow and circulation are economically calculated from CFD (computational fluid dynamics) analysis and the flow is one of the main reasons for the great results that have been achieved. Particles are lifted up to the technical deck from bottom, giving 100% control of the feeding process, meaning the fish can be fed with extreme precision, giving premium growth results.
The flow is also crucial for optimizing O2 levels and getting rid of the CO2. With three water changes per hour, the flow and the fish welfare are the best in class. No other closed containment system can show such excellent water flow and – best of all – that also way it is also possible to go up to 75 kg/m3.
As a postsmolt production unit, a globe represents a very wise investment for fish farmers. It will give good flexibility as it is an autonomous and movable unit. The results from the first two generations show that FishGLOBE delivers on its promises, as well as producing growth that has exceeded the developers' expectations. If the cost is compared with other investment – such as a postsmolt facility onshore – the globe shows a significantly lower required investment and is biologically safer than, for example, RAS (recirculating aquaculture systems).
FishGLOBE is the production unit of tomorrow and it is already commercially available to help farmers to cope with the greatest challenge of them all – growing production in a way that is flexible and sustainable.

Featured: The Fishglobe 3.5K live in operation in Lysefjorden- Norway