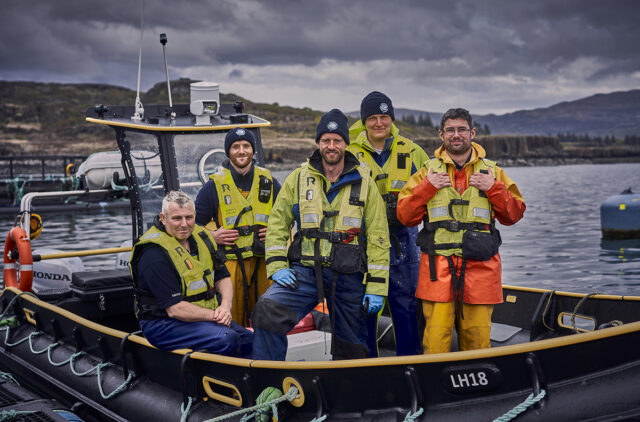 Sustainability and health – for fish, staff, consumers, communities and the environment – are at the heart of SSC's philosophy
As the COP26 climate summit in Glasgow has aptly demonstrated, moving towards sustainability requires fresh thinking, innovation and, most crucially, strong partnerships with business.
World leaders from all regions gathered to embrace the global opportunity to discuss climate solutions, and aquaculture was part of the conversation.
Not only does salmon farming have a lower carbon footprint than most other farming sectors, but the industry has also been receiving the recognition it deserves for its role in feeding a growing global population, while also being a significant employer in Scotland and a vital part of our economy.
With more than 600 staff across 60 sites on the west coast and Hebrides, the ambition of The Scottish Salmon Company (SSC) is to become the leading and most sustainable salmon producer in Scotland. Our sustainable development strategy is underpinned by a significant investment plan over the next five years, including our commitment to incorporate industry-leading recirculating aquaculture systems (RAS) across all freshwater production.
Our Healthy Living Plan outlines our five sustainability pillars; healthy business, healthy people, healthy salmon, a healthy environment, and healthy communities.
Healthy Business
SSC is currently undertaking a significant transformation of its Scottish operations. Fundamental to this is the commitment to develop innovative land-based RAS technology at the freshwater stage of the Scottish salmon lifecycle.
RAS technology will totally transform our operations. RAS gives us greater control of the freshwater rearing environment, which ensures we can produce larger 500g smolt, reducing the marine production cycle thereby decreasing the biological risk in the marine environment. This will significantly increase production volume and importantly ensure greater consistency and quality for our customers.
Our new RAS facility at Applecross will be fully operational by 2023 and there are plans to build two further RAS units in Scotland.
Healthy Salmon
The health and welfare of our fish is of the utmost importance to our business.
We launched our inaugural Welfare Awareness Month in June 2021. This aimed to promote good fish welfare and to ensure it is at the forefront of everything we do.  Throughout the month, the Biology Team ran a programme of virtual welfare workshops and training which was delivered to staff across the business.
We are strengthening farming operations and biological performance in the marine environment, including upgrading shore facilities, farming infrastructure and driving best practice husbandry.
We are focussed on increasing freshwater treatments, investing in vessels and freshwater holding capacity. M/S Bakkanes recently joined our fleet and is one of the largest farming service vessels in Scotland.
And our new cleaner fish strategy deploys both wrasse and lumpsuckers at an early stage in all marine sites.
We have fitted innovative seal and bird-proof nets to protect our stock and minimise stress, and investment in remote feeding technology enables our specialist Feed Technicians to monitor our salmon and their feeding regime regardless of the weather.
We are introducing high quality Havsbrún feed across our sites to ensure our Scottish Salmon access the very best quality feed.
We are driving improved productivity and increased capacity at our processing facilities with the latest technology and automation.
Healthy People
Our people are our greatest asset.
Their health and safety are paramount; providing a safe working environment and ensuring we nurture a culture of continuous improvement and share best practice through the training and development of our employees.
Structured training and development opportunities are offered to enable continuous improvement and career progression.
SSC's industry-leading Competency Framework is aligned to Scottish Vocational Qualifications and sets out comprehensive guidelines for assessing and developing employees across all levels, providing a clear career path for progression, which is aligned with relevant training for every member of the team.
We recently launched our employee awards – the Healthy Living Awards – for individuals, teams or groups who have gone above and beyond to contribute to the responsible and sustainable development of the business, showing commitment to the sustainability pillars in our Healthy Living Plan.
SSC aquaculture apprenticeships continue to prove an attractive option to "earn as you learn" in a rapidly evolving business and wider industry.
"We're proud to invest in Modern Apprentices and currently offer more than four different types of apprenticeships across the business, with 21 employees currently working towards their qualifications and a further 27 employees in the process of starting their learning journey this year (2021). The Scottish Salmon Company's apprenticeships teach knowledge and skills that support the basis of well-paid, skilled employment – especially in rural areas of Scotland."
Debra Nichol-Storie,
HR Director
Healthy Communities
Scottish salmon farming is an incredibly important sector, particularly for rural areas, making them viable locations for people to settle and raise families; but also for the wider supply chain, with businesses and companies working in the salmon sector in every part of Scotland.
We are committed to creating value and long-term employment in the remote and rural communities in which we live and work across the west coast and Hebrides, and we are the largest private employer in the Outer Hebrides.
We are investing in much-needed housing to support recruitment opportunities in local areas where housing options are limited. We currently have several properties from Harris to Mull and we provide accommodation for a number of employees.
Our Community Charter in Scotland pledges our commitment to our people, suppliers and communities. As part of this, our Community Fund encourages staff to nominate local groups, causes and charities in their local community, which promote health and wellbeing or stewardship of the natural environment, to receive funding.
Since its launch, over 100 staff nominated community groups have been awarded support through our Community Fund, including community food banks and local schools who needed funding to purchase equipment to take part in outside learning. The Community Fund has also supported several local sports teams, as well as group who organise beach cleans, including Clean Coast Outer Hebrides. In 2022, we will be extending our Community Fund for external applications.
We are committed to sourcing locally where possible, with a new custom-built C-Ranger vessel from specialist local boat builders Arran Workboats joining our fleet this year. Arran Workboats is currently building another new C-Ranger nine-metre boat. It is multiple orders like these that secure employment for the local island craftsmen.
It's been great to work with author and renowned culinary expert Christopher Trotter this year to promote Coasts and Waters: The British Seafood Cookbook, produced with support from our Native Hebridean Salmon. Christopher encourages readers to incorporate more native British seafood into their diet as a delicious, healthy and sustainable source of protein and to support local suppliers.
We're delighted to be a long-term sponsor of the SSC Isle of Skye Half Marathon. This year we tasked pupils from Portree High School's S5 graphic communication class to design sustainable wooden medals for the event in September, as an alternative to plastic. Angelo Arwen's design of a runner in front of Skye's two Cuillin mountain ranges took first place and the S4 practical woodwork class fabricated and assembled 900 medals using a laser cutter. The ribbon was made from yarn dyed on the island using locally picked Tansy.
"The Scottish Salmon Company's medal competition has been a really valuable experience for pupils to develop their skills in a real-life context."
Tony Breen,
Head Teacher at Portree High School
Healthy Environment
SSC has a substantial investment programme over the next five years to strengthen and grow the business with sustainability at its heart, which will completely transform the business.
Fundamental to this is our commitment to incorporate RAS technology across all freshwater production, which is a real game changer for the business.
The first of these full sustainable, freshwater facilities at Applecross will not only be the largest RAS facility in Scotland, but also the most sustainable, with an ambition to be 100% powered by locally produced renewable energy, with water use reduced significantly and plans to treat and reuse waste.
Our plans are ambitious and reflect our commitment to unlock a cleaner, greener, sustainable future. We don't just want to be the best in the Scottish salmon sector. We want to be the ones making it better for everyone.