A feeding solution for all weathers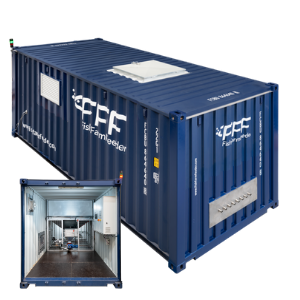 Feeding from a container? The Spanish company Fish Farm Feeder (FFF), which manufactures automated feeding systems for aquaculture, has adapted the "packaging" of its machines to the needs of its clients, so fish or shrimp farms without a covered area for storing feeding systems do not need to worry any more. All feeding components of the feeder, including the feeding silos, are stored in a container so it is possible to keep it outdoors. This new design permits using automated feeding systems in any region and at any stage of a fish or shrimp live farming cycle.
FFF provides solutions for land-based, RAS, river and/or lake aquaculture offering tailor-made feeding systems to farms or consultant companies. It has been taking care of farming feeding needs for more than a decade.
Tel: +34 886 317 600
www.fishfarmfeeder.com