8,000 tonne salmon farm planned for Brittany coast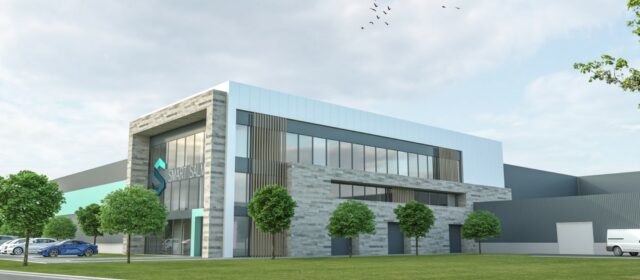 Land-based salmon farming is moving into mainland France with a plan to build an 8,000 tonne facility in Brittany.
The Norwegian company Smart Salmon says that with salmon so popular in France, the country is the right place to invest.
This latest development (impression, pictured)  follows the disclosure that a UK consortium is planning a 5,000 tonne RAS (recirculating aquaculture system) farm in Grimsby, home to the UK's largest seafood processing hub.
There are also plans for two land farms in Switzerland and one near Ostend on the Belgian coast.
The Smart Salmon RAS facility will be near the small north west town of Guingamp although local media is reporting some local opposition to the plan.
The project will be based on AquaMaof technology.
The company said: "After many years of escalating work, it is a pleasure to inform that Smart Salmon recently has delivered the application for land-based salmon farming in Brittany, France.
"AquaMaof together with Alde Aqua [and] Cesia among others, have been of utmost importance in the application process."
The application includes more than 1,000 pages in addition to detailed 3D models of all parts of the planned facility.
Smart Salmon is planning to produce the fish all the way from eggs to consumer friendly packages of fresh fillet.
The company said: "Smart Salmon is excited regarding the plans for salmon production in France, but we recognize some resistance to the plans.
"We are respecting the opponents' views, but we believe that most of the opposition is due to inaccurate information, even though Smart Salmon has had a strong focus on informing the public and all stakeholders.
"Our facility will produce some of the most environmentally friendly animal proteins in the world, and this is backed by our ESG-report released earlier this week."
Smart Salmon is also planning to build a large post-smolt land-based farm in Smørhamn, in Bremanger, Norway, with the aim of supplying post-smolts to marine fish farms.