Prized students named in Shetland awards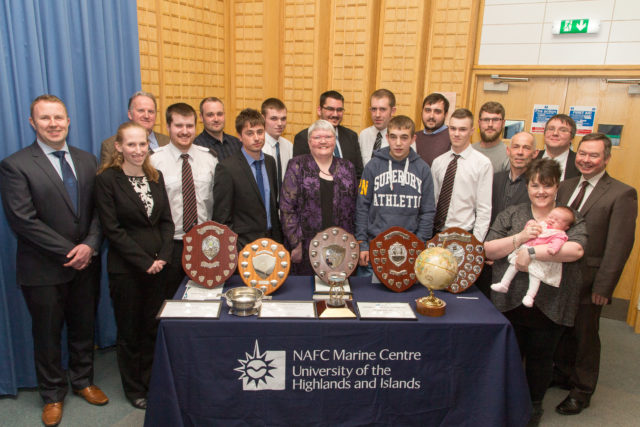 A distinguished group of students stepped up to receive awards in the annual NAFC Marine Centre UHI prize giving. Excellence in engineering, navigation, deck cadetship and aquaculture were recognised at the ceremony at the centre in Scalloway.
Speaker at the awards Sandra Laurenson, former chief executive of NHS Shetland, told guests, including NAFC staff and trustees: 'What you are teaching here is meaningful, exciting and career-enhancing.
'I want to congratulate you all today, all who take the courses and those who teach them. You are building the future. You have done yourselves and your families proud. I'm impressed by the positive, can-do approach of this organisation.'
NAFC Marine Centre principal Willie Shannon said it had been a 'tough year in many ways' but successful with the centre now bursting at the seams with students.
'It is important for people to realise the value of what we do here for the wider community in Shetland.'
Andy Glen, head of training and skills, paid tribute to the lecturing staff and the support staff at NAFC for the high levels they have achieved.
'It is the quality of our staff here at NAFC Marine Centre that allows us to produce so many high-achieving students.'
Full list of winners at the ceremony:
Euan Smith – Northern Lighthouse Board Prize Engineering (North Star Shipping through SSTG)
Euan first enrolled at NAFC in September 2007 when he was a modern apprentice engineer with Ocean Kinetics. Presenter Callum Smedley, senior engineering lecturer, said it showed Euan's commitment to higher education and his wish to broaden his skills that he left this well-paid job to join the cadet programme in September 2013.
'Euan was able to put his existing skills into practice by helping others in the class on a regular basis. A pleasant, unassuming, capable and extremely skilled young man, we were fortunate to utilise his expertise by hiring him on a part-time basis to assist in instruction of night classes and specialist welding courses held at NAFC during the time he was a student completing his HNC.
'He very much enjoyed his time at sea and carried out all duties asked for him on board ship in an exemplary manner, sometimes assisting with more complex tasks when his skills and previous qualifications became known, working beyond the requirements of most cadets on board.'
Stuart Donald – North Star Shipping Engineering Cadet (Vroon Offshore Services Ltd through Clyde Marine Training)
The audience heard that Stuart was already a competent engineer when he embarked on the engineer cadet programme at NAFC Marine Centre in September 2012. He had worked in local industry so had well developed practical engineering skills and a strong work ethic.
Stuart, who is now working as a marine engineer with SIC Ferries on board the Bigga, was awarded the Northern Lighthouse Board prize in 2015 for top engineering student in his year.
'Despite an injury in his final phase meaning he could not always attend classes he coped remarkably well and it did not impinge on his ability to achieve excellent results. Stuart has natural skill in engineering and he was always willing to help others in the class at any time, generating respect with both peers and others.'
Kris Mitchell – Clyde Marine Engineering Cadet (Gulf Offshore NS through SSTG)
Kris, from Buckie, came with his parents for a visit and tour of the campus and facilities during the summer holidays of 2012. He was just 16 and had recently left school.
Smedley said: 'Despite being one of the youngest in the class, Kris had no problem either settling in to living in Shetland or achieving good results – once his classmates became used to his strong Doric accent!
'An exemplary student throughout he had no difficulty with any of the theory or practical elements of the course at NAFC and also received consistently high praise from his supervisors when at sea.'
Kris is now working as third engineer officer with Gulf Mark Offshore.
Magnus Gilfillan – Jim Thomas Memorial Trophy (HNP Engineers Lerwick)
This prize is awarded to a first year shore-based engineering student who displayed the qualities that the late, great NAFC lecturer Jim Thomas treasured and promoted in his students.
Smedley said: 'Following in the footsteps of his brother, Magnus showed his determination from day one to learn as much as he could and make the most of his time at NAFC. A pleasant and polite young man, he worked very hard and listened carefully to instructions which ensured he achieved everything required, both academically and practically to a very high standard.'
Magnus Scott – NAFC Modern Apprentice of the Year (Blueshell Mussels Ltd)
This prize is awarded to the most outstanding engineering modern apprentice who completed their award in the last academic year.
Smedley said: 'Magnus was a focused student from the very start of his apprenticeship, which continued all the way through. He was always determined to complete his work-based SVQ level 3 to a high standard, and actually did a lot of self-directed learning to achieve that aim. Throughout he displayed excellent social, practical and team working skills. This has been recognised by his company, Blueshell, who quickly promoted him to a supervisory position on completion of his apprenticeship.'
Steve Pottinger – Forbes Watt Prize for Navigation sponsored by Hunter & Morrison Trust
Presenting Steve with his prize, head of short maritime courses Mark Fullerton said he had started off at the fishing before progressing to become a master of a multi-cat.
The audience heard that Steve is good-humoured and a hard worker who always produced a high standard of work, passing all his exams (four written and one oral) first time.
Craig Marshall – Northern Lighthouse Board Prize Deck (Zodiac Maritime Ltd through Clyde Marine Training)
Craig, from Kelty in Fife, came to NAFC to join the February deck cadet intake of 2013. At 22 years of age he was one of the oldest in the class and had held down a job before deciding to have a complete career change and join the Merchant Navy.
Presenting him with his prize, head of the NAFC cadet programme Laura Burden said: 'Craig had a mature outlook from the beginning. He had invested in the training and undertook all classes and practical activities with enthusiasm and some skill.
'During his first sea phase he had two very interesting voyages, the first from Los Angeles to China including ports such as Tokyo, San Francisco, Panama Canal signing off in New York. The second found him joining in Italy and visiting some European ports as well as the Suez Canal, India and Dubai – not surprisingly he really enjoyed his time at sea but also managed to get a lot of information into his Trainee Record Book as well as clocking up over six months sea time – all which stood him in really good stead for returning to college and undertaking his HNC.
'None of his studies created any difficulty for Craig, he was an excellent student who progressed really well, enjoying the course at the same time.  He successfully passed his written and oral MCA exams in March this year.'
Robert Isbister – Bells Nautical Trust Deck Cadet (Gulfmark Offshore through Clyde Marine Training)
Robert first attended NAFC in 2010 while he was still a pupil at the Aith school to undertake skills for work aquaculture. When he successfully completed that course at the age of 16, and gained the required entry qualifications to the cadet programme, he joined NAFC in September 2012 in the deck cadet class. He was awarded the Nautical Institute prize for the best endeavours of a first year deck cadet.
Burden said: 'Robert is capable, quiet and unassuming but with a determined passion for the industry he now works in, which has not changed since he was a young boy at school with a clear vision of a career at sea. One of the most responsible and mature students in his class, despite being one of the youngest, he was always happy to help any of his classmates, carefully explaining some of the more difficult subject areas'
"Since qualifying Robert considered himself very lucky in getting work with SIC ferries on the Whalsay route where he had a very good experience while gaining valuable sea time. He is soon to attend Britannia Royal Navy College for a 10-week training programme before joining the Royal Fleet Auxiliary in June as a third officer – an opportunity he is very excited about. An extremely able and well-liked young man, he will be an asset to any employer.'
Thomas Stewart – Clyde Marine Deck Cadet (Solstad Offshore through Clyde Marine Training)
Guests heard that Tammy has been coming to NAFC as a student in a variety of classes for quite a number of years.
A very able student, quiet and capable, always impeccably turned out, Tammy got on with all aspects of this new discipline, always doing exceedingly well with classwork and taking everything in his stride. Following his first year of study he was the first recipient of the Nautical Institute prize for endeavour – which was collected by his mother as he was at sea for the ceremony.
Upon successful completion of his cadetship in 2015 Tammy was awarded the Northern Lighthouse Board Prize for the best deck student in his year. He is now working as mate with SIC ferries on the Whalsay route.
Ross Christopher James Sinclair – Nautical Institute Prize
Ross joined the September intake of deck cadets in 2014 being one of the oldest in this particular group and having previously attended Sandwick and Anderson High Schools. Always impeccably turned out down to his tie-pin, Ross was a particularly able student who passed all assessments first time and had no difficulty with any subject. Popular with his peers, he was often found to be explaining particular concepts to classmates and always had a friendly, happy demeanour.
Ross enjoys many hobbies and activities outside college and work, most notably Up Helly Aa where he was seen in Lerwick in January this year sporting a very fetching pink dress which was slightly at odds with his beard – which will be necessary when he is in the Jarl Squad at the same festival in 2017.
Erik MacMillan – Jim Tait Prize for Level 2 SVQ Aquaculture sponsored by Hunter & Morrison Trust (Cooke Aquaculture)
The audience heard that Erik started working for Cooke at Hoganess in November 2014. His willingness to learn was evident straight away, and he continued his development by attending and passing all his training modules. He is now qualified to work with all boats and machinery at the site and passed his Level 3 SVQ with flying colours.
He was Cooke's representative at the NAFC for three months, working with the lumpsuckers, and has overseen the trial of cleaner fish at the newly-opened Aith site.
He was told by his manager Keith Leslie that he could go as far as he wanted in the industry as he had the ability to learn quickly and is level-headed enough to deal with whatever is thrown at him.
Shaun McAlister – Scottish Salmon Producers' Organisation Award for Outstanding Level 3 Modern Apprentice (Scottish Sea Farms)
Shaun is the first winner of this new prize recognising the achievements of Level 3 SVQ Modern Apprentices in Aquaculture. A marine biologist, he has worked at the Scottish Se Farms site in Vidlin for three years, having joined the industry at the invitation of Graham Smith following a conversation in Monty's where he had been working as a waiter.
Knowing nothing of the salmon industry, he learned and excelled quickly. He was selected for the award because his written theory and practical skills were excellent. An outstanding student.