New diet 'cures lumpfish cataracts'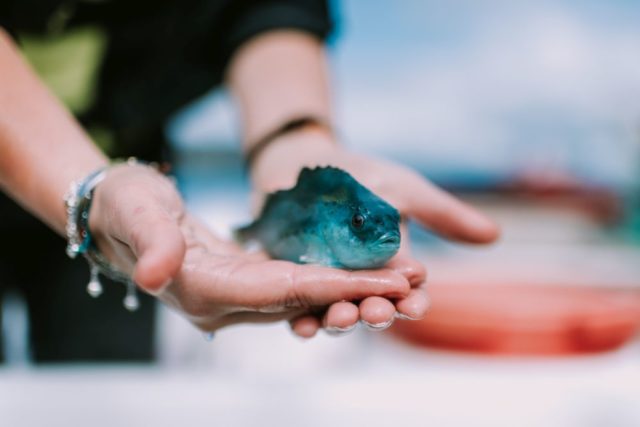 FEED maker BioMar said it has eliminated the common problem of cataracts in lumpfish with a specially formulated diet.
Cataracts affect at least 60 per cent and as much 100 per cent of lumpfish, clouding the lens of the eye which reduces vision and in serious cases will lead to blindness.
The cleaner fish species are visual lice grazers, and any impairment of their vision caused by sub-optimal nutrition will clearly reduce their health, welfare and performance.
For lumpfish to be used effectively in controlling salmon lice biologically, the cleaner fish must be healthy and alert, said BioMar, announcing its new feed today.
'Lumpfish with severe cataracts will have difficulty in identifying and consuming nutrients, including salmon lice,' said Elisabeth Aasum, global R&D health manager of BioMar.
'Also, a reduction in feed uptake can undermine the general health of the fish, increasing the risk of infectious disease.'
Past studies of cataracts in lumpfish have identified nutritional imbalances, with high levels of specific amino acids in certain tissues.
A recent study by BioMar found a high incidence of cataracts in lumpfish fed a control feed with a protein and fat content typical for marine cold water species.
The incidences ranged from 60 per cent to 100 per cent, with an average cataract score of > 5, which is a high incidence of severe cataracts.
BioMar conducted the same study on three alternative fish feed diets and no traces of cataracts were found in any of these diets.
The common feature of these recipes was a reduction in the content of both protein and fat when compared with the control feed. Much of the cause accordingly appears to coincide with the above findings.
Torunn Forberg, the lead BioMar scientist on the research project, said: 'A balanced reduction in nutrient density was decisive in avoiding the eye disease.
'Moreover, during the study, the reduction in nutrients did not have any negative affect on normal growth rates, feed utilisation and survival rates for transfer sized fish at 50g.'
BioMar has now implemented this new knowledge into its Symbio, Lumpfish Grower range, which is not only designed to improve the nutritional status but now the eye health of lumpfish.