Awards Treat as Scottish firm scoops top prize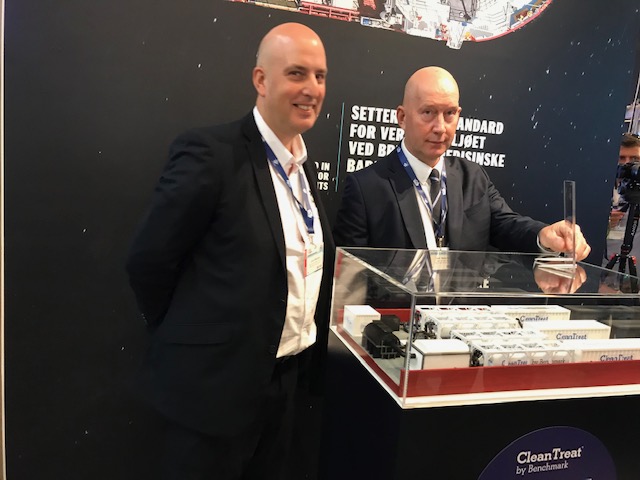 SCOTTISH innovation was celebrated on the opening day of the world's number one aquaculture show, when Edinburgh based Benchmark won the prestigious Aqua Nor Innovation Award this morning.
The company picked up the accolade – along with a cheque for 100,000 kroner – for its breakthrough sea lice treatment system, CleanTreat, which cleanses treatment water after delousing in well boats.
The honour was particularly significant for the Scottish industry as it is the second consecutive Innovation Award to be won by a UK firm at the biennial exhibition. At Aqua Nor 2017, Dundee based Ace Aquatec scooped the prize for its humane electric stunning machine.
Benchmark beat stiff competition from Norwegian Morenot Robotics, which was shortlisted for its autonomous underwater robot NetRobot.
The net cleaner, which prevents fouling by means of low-intensity brushing, is intended to reduce the consequences of net flushing and was being launched during this year's Aqua Nor.
Also in the running for the award was Trondheim innovator Ecotone, nominated for its camera solution SpectraLice, which counts and reports salmon lice automatically, 24 hours a day.
Ecotone was the first company to make a version of hyperspectral camera technology that works underwater – and has also patented it.
Having delivered products and services to customers within the oil and gas industry, the company said it is now investing heavily in the aquaculture industry.
The CleanTreat system has so far been trialled only in Norway, where it has successfully treated more than 30,000 tonnes of fish, according to John Marshall, head of Benchmark Animal Health.
Malcolm Pye, the Benchmark CEO who announced yesterday that he was standing down from the role, was at the official opening of Aqua Nor in Trondheim to accept the Innovation Award.
'We're delighted to achieve this prestigious award at the world's most exciting aquaculture event,' he said.
The innovation had been a long time in development – about 10 years – and it came from a belief in sustainable food production, and the need to prevent the discharge of medicines into the environment, he said.
Pye added that sustainability can't be owned by any one company and the industry must pool its resources. Benchmark is looking for partners to further develop its invention.
However, there is some impatience among Scottish salmon farmers over bottlenecks in the regulatory system that have so far prevented them from trialling CleanTreat in Scotland.
Marshall said his company had been approached by all the Scottish producers, interested in deploying CleanTreat at their farms, and he hoped there would be Scottish trials soon.
'The target was for the end of this year but, realistically, it will be next year,' he said.
CleanTreat has the potential to be used on well boats, tankers, platforms and onshore and is proven to be effective on most available bath treatments for sea lice.
The solution also removes treated sea lice, so that they will not spread resistance to the treatments.
Chemical based bath treatments that are released into the water are one of the biggest objections to the aquaculture industry.
A boat is currently being fitted with the CleanTreat system in Leith, in Scotland, but this too will sail to Norway to start work on Norwegian farms.
Mike Forbes of Ace Aquatec, exhibiting on stand D329, said winning the Innovation Award in 2017 for the in water electric stunner was great for building credibility in what the company does.
'This is the biggest industry event and to be the first non Norwegian company to win the award was a big honour for us and very prestigious.
'At the time we won, the product was new and it was very innovative and different, but people didn't look at it as risky any more.
'And from that point onwards, we've had this as a commercial system and it's been easy to open doors.'
With Benchmark's win too, it was good to be able to bring Scottish innovation to the outside world, he said – 'it's a very innovative industry in Scotland'.
Forbes believes getting recognition from the Norwegians then helped Ace Aquatec to win the Queen's Award for Enterprise – twice.
Aqua Nor runs from August 20- 23 at the new Trondheim Spektrum centre.