The September issue of Fish Farmer is out now online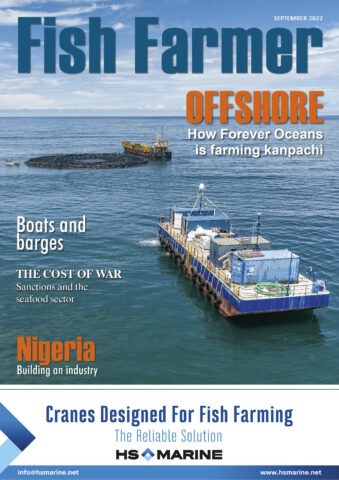 The September issue of Fish Farmer is out now and you can read it online here.
As this month's magazine comes out, the UK finds itself in a time of transition. In the space of less than a week, the country had a new Prime Minister and was mourning the passing of its long-serving and well-loved sovereign.
What the reign of Charles III will bring is something we can only speculate on at this stage, but in this issue of Fish Farmer Hamish Macdonell shares his thoughts on the new PM, Liz Truss, and what her premiership might mean for this industry.
Also in this issue, we look at aquaculture beyond these shores. Forever Oceans is a US-based finfish farmer, using technology developed by industrial giant Lockheed Martin to build resilient cages for yellowtail – otherwise known as kanpachi – farming in offshore locations from Indonesia to Panama and Brazil. Those locations are challenging, but also offer the prospect of fish farming with minimal impact as our report finds.
Meanwhile in Nigeria, the government aims to close the gap between fish production and consumption by growing its freshwater fish farming industry. A new report from the University of Stirling's Institute of Aquaculture shows how that could succeed – and why it might not.
The September magazine also includes special features on Boats and Barges; Cages, Pens, Nets & Moorings; and Careers. Sandy Neil reports with an update on the impact of war and sanctions on our industry, and Nicki Holmyard explains how a new technique for freezing mussel spat may be able to help Europe's shellfish farmers.
We also feature the growing tension in Chile between salmon farmers and the new government, and a study that finds children and young people in Norway – of all places – are eating less fish.
Finally, technology is transforming the business of aquaculture and an upcoming webinar, which Fish Farmer is hosting with communications tech specialist Krucial, will address the issue of "the connected farm" on 2 November. There are details on page 9 of this issue and you can also find out more online here.