The October issue of Fish Farmer is out now online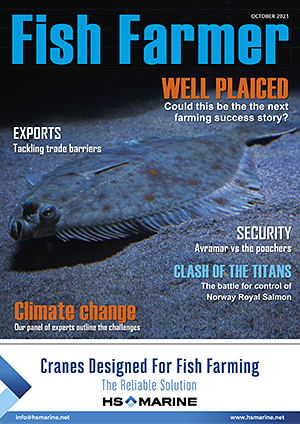 In a few weeks' time the eyes of the world will be on Glasgow as leaders gather for the UN COP26 Climate Change Conference. The impact of global warming on aquaculture also features in the October issue of Fish Farmer magazine, which is out today online.
The oceans are right on the front line of climate change and this is already impacting aquaculture, with extreme weather events, warming sea temperatures and challenges such as harmful algal blooms and reduced oxygen.
In this month's issue we report on a webinar, held jointly by Fish Farmer and InterMET, which brought together a panel of experts to discuss how climate change is affecting aquaculture and how it might be mitigated. Please do read this article and, if you can, watch the webinar which is available to view online.
Also, Dr Adam Hughes from the Scottish Association for Marine Science (SAMS) argues that if we are to promote the Blue Economy as sustainable we need a clearer idea of what "sustainability" means in this context.
In the October issue we also report on a study which points to an optimistic future for plaice farming, and on a paper that outlines the opportunities for marketing shellfish from Scotland.
We look at the story behind the dramatic battle for ownership of Norway Royal Salmon and why it resulted in victory for NTS; and at the latest developments in the saga of Brexit and its continuing challenges for the UK's seafood industry. And turning to the Mediterranean, you can find out how G4S helped one of the biggest fish farmers in the region defend its sites against poachers.
The October issue also includes reports on land-based farming, waste management and the Aquaculture Innovation Summit. To get reading, click here.