The October issue of Fish Farmer is out now online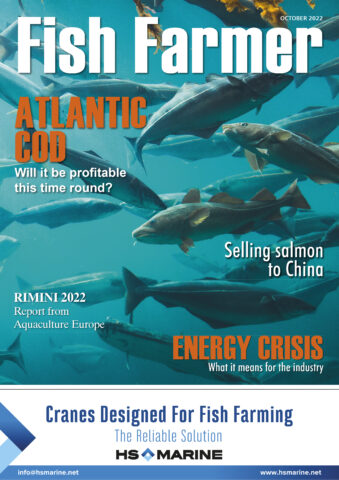 The October issue of Fish Farmer is out now online and you can read it here.
In this month's magazine we take a look at a branch of fish farming that has been tried before with limited success: Atlantic cod. Will the experience gained from past failures, and an intensive breeding programme, mean that this time we will see the prized whitefish become an established aquaculture species?
We also report on how the energy crisis and increase costs are impacting the fish farming sector in the UK and abroad. Can government aid packages help to soften the blow of spiralling bills?
Sea cucumbers are a popular seafood dish in the Far East. While western consumers are unlikely to follow suit any time soon, this ocean invertebrate could have a key role to play in seabed remediation at fish farms, new research suggests.
Martin Jaffa looks back on our new king's past involvement with salmon and fish farming, while Hamish Macdonell reports on lessons from an initiative to bring good quality salmon meals to Scottish school students.
We also review Aquaculture Europe 2022, the annual conference of the European Aquaculture Society which was held, this year, in Rimini, Italy. The theme was "Innovative Solutions in a Changing World" and there was certainly no shortage of innovative ideas at the conference, from alternative feed ingredients to robotic net cleaners.
This issue also features Waste Management and the Circular Economy – the latter being a key theme for a number of presentations in Rimini – Land-based Farming and Hatcheries, and Innovation.
Vince McDonagh also reports on the Norwegian Seafood Council's latest assessment of opportunities in the Chinese market.
Finally, if you haven't signed up already for our free webinar on connectivity and digitisation in the aquaculture sector, which Fish Farmer is co-hosting with Krucial, you can find out more on page 44 of the magazine or click here for the Events section on this website.