The May issue of Fish Farmer is out now online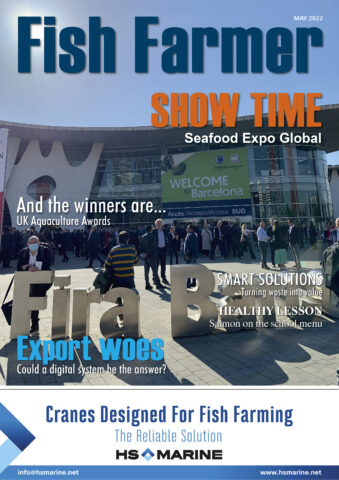 The last few weeks have seen the return of two big events –Seafood Expo Global/Seafood Processing Global, in its new home, Barcelona, and the Aquaculture UK trade show in Aviemore, in the Scottish Highlands.
In the May issue of Fish Farmer, which you can read here online, we report on the Expo in Barcelona and you can see the results of the UK Aquaculture Awards, held in Aviemore.
Also this month, Hamish Macdonell writes about an initiative that has seen Salmon Scotland and its members reaching out to schools in Stirling to help their students find out how salmon can be a tasty and nutritious part of the school diet.
Sandy Neil reports on the lessons so far from a pilot study in digitising the paperwork around exporting seafood to the European Union. Vince McDonagh looks at the latest thinking on aquafeed and we also have a report on progress so far for Cermaq's innovative iFarm concept.
Researchers Elizabeth Cook, Nidhi Nagabhatla and Louise Shaxson warn that the potential for seaweed as a farmed crop could be undermined by a lack of genetic diversity; and we also hear from two members of the Welsh Senedd about their impressions from a fact-finding visit to aquaculture businesses in Scotland.
Nicki Holmyard reports on a study that confirms that farmed fish, shellfish and seaweed not only have a low carbon footprint but can actually help to mitigate greenhouse gas emissions – the research comes with a warning, however, that aquaculture producers do need to ensure that they are working in a sustainable way and that they minimise their own impact on the environment.
We also include a feature on the investment by Samherji in expanding their operations in a remote part of north-eastern Iceland.
A full report on Aquaculture UK will appear in the June edition.