The May issue of Fish Farmer is out now online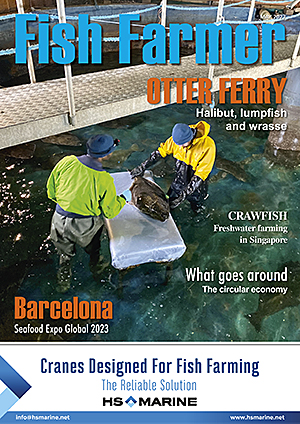 The May issue of Fish Farmer magazine is out now online and you can read it online or download it here.
Otter Ferry Seafish, featured in our cover story this month, encapsulates the history of fish farming in Scotland, all within one site on the shores of Loch Fyne.
Starting as a trout and then a salmon farm, the business evolved into a broodstock provider and then branched to embrace new species: halibut, wrasse and lumpfish.
Otter Ferry has adapted to changing technology and changing market conditions, but Alastair Barge and his team have been consistent in their passion, and in their willingness to extend the boundaries of the known in aquaculture.
Also in in this issue we report on the world's biggest seafood trade show, Seafood Expo Global/Seafood Processing Global, which was back in its new home, Barcelona, for the second time. The five halls of the Fira Barcelona, packed with exhibitors from around the world, are probably the best way to get across the sheer scale and diversity of the seafood business.
With a growing human population on this planet and an imperative to ensure wild fish stocks are not fished to extinction, the pressure is on aquaculture to fill the gap – and to show that it can do so sustainably.
Also following the sustainability theme, this month we focus on Waste and the Circular Economy, and on developments in packaging, with new regulations coming into force in the UK that place extra responsibilities on producers to ensure that the packaging they use is, as far as possible, both recyclable and recycled.
Sandy Neil reports on a freshwater crayfish farming venture based in Singapore, that its founder hopes will help local farmers in that part of the world to produce nutritious and cheap protein.
And Vince McDonagh profiles the Marine Donut – not a seagoing sugary snack but a new concept in fish cages that has already attracted international attention.