The March issue of Fish Farmer is out now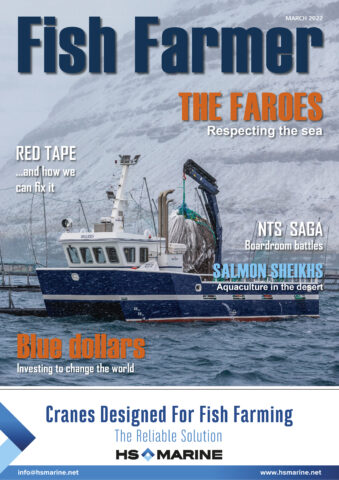 The March issue of Fish Farmer is available now online and you can read it here.
We are coming out at a time when the situation in Ukraine is causing grave concern, both for the humanitarian catastrophe that is unfolding and for the dangerous global situation that it has created.
Inevitably, the crisis is having ramifications beyond the borders of Ukraine or Russia and the seafood industry will not be immune, as economic sanctions start to take effect.
Even the Faroes, a long way from the front line and, as a European state that is not part of the European Union, one of the few countries to still be exporting seafood to Russia, is now facing some difficult decisions.
In this issue we focus on the Faroe Islands – as a salmon producing region it is not the biggest but it is in many ways a leader in addressing the issues of welfare and sustainability in fish farming. The islanders, who have lived for a long time with the challenges of a wild but highly productive ocean, have learned some important lessons that we could all benefit from.
Also in March's Fish Farmer, we look at reactions to the Griggs Report on reforming Scotland's aquaculture licensing system, and at how cage and pen manufacturers are aiming to improve their use of plastics.
Sandy Neil reports on some examples of investing in innovation in the blue economy around the world, and Vince McDonagh highlights some interesting developments in fish farming in the desert terrain of the Middle East.
Closer to home, Nicki Holmyard reports on a new development in the UK's House of Commons that will give Britain's beleaguered shellfish farmers more of a voice in the political sphere.
Meanwhile, Nick Joy considers the crisis in recruitment in the seafood sector and wonders whether, in the long run, it is our attitudes to those who work with their hands that have created the problem in the first place.