The March issue of Fish Farmer is out now online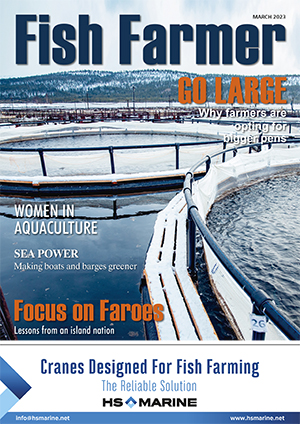 The March issue of Fish Farmer is out now online and you can read it here.
In this issue, our feature on Cages, Nets, Pens and Moorings focuses on the trend to larger pens for salmon farmers, which is partly driven by the need to find more high-energy locations. Placing farms further offshore creates huge pressure on the farm infrastructure. Larger pens – 160 metres rather than 80, 90 or 120 metres – are more resilient in an environment where the power of currents, waves and tides is immense.
Another approach is to take the farm out of the sea altogether. We have seen land-based projects being developed all over the world, but not so far in the UK. All that may be about to change, however, with plans to build a RAS farm in Grimsby, a location better known for processing fish rather than rearing them. Predictably, the protests have already started.
Also this month, Fish Farmer takes a look at the Faroe Islands, which so far seem to have avoided the worst of the headaches – fiscal and biological alike – that have recently afflicted their near neighbours in Norway and Scotland.
Sandy Neil reports on a project, supported by Mowi, to renovate the historic harbour at Carradale, on Scotland's Kintyre peninsular; and Salmon Scotland's Tavish Scott makes the case for ensuring some of the funds the state raises from fish farming should to mitigate the housing crisis faced by rural and remote communities.
Among other topics, you can also read about the threat posed by copper to marine life; the prospects for blue mussels rivalling their green-lipped counterparts as a source of "nutraceuticals"; and how the campaign to develop greener technology for working vessels is progressing.
And to celebrate International Women's Day earlier this month, we meet some of the women making their mark on aquaculture and hear about their achievements and aspirations.