The June issue of Fish Farmer is out now online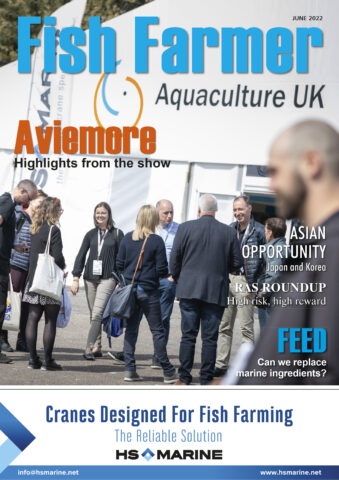 The sense of a return to something like normality was palpable in Aviemore last month, as the Aquaculture UK trade show and conference returned after a four-year absence.
You can read our full report from Aquaculture UK in the June issue of Fish Farmer, which is out now online, here.
Also in this month's issue, Vince McDonagh looks at an assessment from the Norwegian Seafood Council of the opportunities for exporters in Japan and Korea, where the appetite for Atlantic salmon appears to be growing.
Our Feed feature considers the role of "novel ingredients" in aquafeed, and to what extent they may be able to substitute for wild-caught forage fish. And you can also read about a proposed new way to measure FIFO (Fish In, Fish Out), which is an important measure when looking at the sustainability of fish farming.
This month's magazine also includes an update on land-based fish farming projects around the world; an assessment of the role that semi-closed cages at sea could play in protecting fish against sea lice; and a report from the Shellfish Association of Great Britain's conference, which also took place in May.
Nick Joy calls for the industry to embrace its mavericks and the innovation they bring to aquaculture, while Salmon Scotland's Hamish Macdonell warns that the looming trade dispute over the Northern Ireland Protocol could have disastrous consequences for the UK's seafood exports.
Aviemore may have looked like its old self, but there are plenty of new challenges for the industry.