The July issue of Fish Farmer is out now online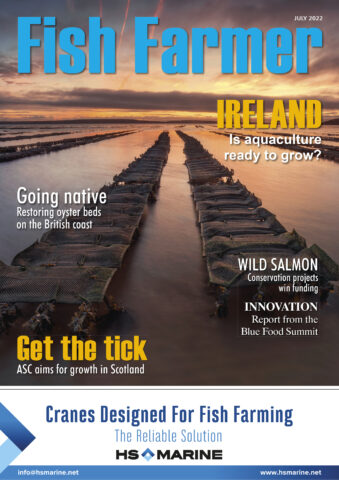 The July 2022 issue of Fish Farmer magazine is out now and you can read it here.
This month's issue focuses on Ireland, a country that could be described as a "sleeping giant" of aquaculture. While revenue in the Irish seafood seafood sector grew last year to €1.26bn (£1.08bn), there's a strong sense that a country so long known for its agriculture could do so much more with its coastal resources.
In our feature article, we look at some of the barriers to growth in Ireland, both for finfish and shellfish – and at the opportunities that could lie ahead.
Also in this issue, we look at the Aquaculture Stewardship Council's campaign to sign up salmon farmers in Scotland for its international environmental and social certification programme. The "ASC tick" is already used by producers – and trusted by retailers and customers – around the world, and now we're seeing Scottish farmers achieving certification. We explain why it has taken so long for Scotland to go down the ASC route, and what it takes to get your farm certified.
Sandy Neil highlights the projects that are set to benefit from the latest round of grants from the Wild Salmonid Support Fund, and also catches up with some of last year's recipients to find out how they have put that support to good use.
Also on the theme of conservation, Nicki Holmyard reports on a project that aims to map Britain's historical native oyster populations, to help restore Ostrea edulis to its rightful place in the ecosystem.
We report on the Blue Food Innovation Summit in London, where international investors came together with pioneers at the cutting edge of aquaculture technology; and from the commercial marine show Seawork in Southampton.
Finally, we have a new format for our features on Breeding and Genetics, Supply Chain and Lifting and Cranes, with news, appointments and technology updates from those sectors. Please let us know what you think about the new look!