The January 2023 issue of Fish Farmer magazine is out now online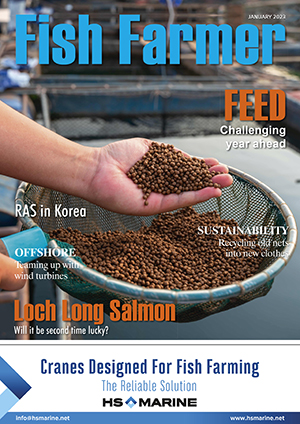 The January 2023 issue of Fish Farmer magazine is out now online and you can read it here.
For fish farmers, if the upside for 2022 has been the premium prices their products have been fetching, the downside has been increased costs, especially when it comes to energy and feed.
The latter is easily the biggest single expense area in aquaculture – and the cost is not just counted in monetary terms, with much of the industry's reputation hanging on whether it can ensure its feed comes from sustainable sources.
This month we hear from some of the businesses in the feed sector and also explore some ideas for alternative sources for aquafeed – including even marine life scoured from the remnants of decommissioned oil rigs!
We also report on a land-based farm project in Korea, where local company BluGen is looking to farm a high-end fish that is greatly prized in the Asian market. It's not salmon, however, but olive flounder.
Last year, Loch Long Salmon's application for consent to set up an innovative semi-closed farm on Scotland's west coast failed at the last stage, thanks to a decision taken by the local planning body. Sandy Neil talks to Loch Long's Stewart Hawthorn about the company's plan B, which could involve a new site on Loch Linnhe.
As part of our Underwater Services feature, Scottish Sea Farms' Gerry McCormick and Jonathan Watt of the Professional Diving Academy explain the thinking behind a new diving standard for contractors serving aquaculture clients.
And in her comment article, Heather Jones, Chief Executive of the Sustainable Aquaculture Innovation Centre talks about what she learned over the past year from interviewing people involved in all aspects of aquaculture, for her Master's degree.
Mussel production is growing worldwide – but not in the UK or the European Union. Nicki Holmyard looks at a report on the EU mussel sector and also gives an update on the very specific problems mussel growers in the UK are facing as a result of Brexit.
All this and more can be found in the packed January 2023 issue of Fish Farmer.