The January 2022 issue of Fish Farmer is online now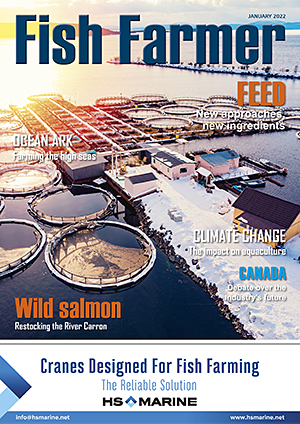 The January 2022 issue of Fish Farmer is out online now, and you can read it here.
This month we look at examples of fresh thinking, from the ambitious design for an "Ocean Ark" floating fish farm for locations far out at sea, to the Finnish inventors who have found a way to repurpose old shipping containers as infrastructure for a land-based farm.
Sandy Neil also reports on a new development from the Aquaculture Stewardship Council, which is using analysis of trace elements to ensure that the provenance of seafood is what it is claimed to be.
We also look at developments in aquafeed, where increasingly alternative protein sources are being explored in order to reduce the industry's dependence on wild-caught fish.
The coming year will also bring some important policy choices. Bipartisan legislation currently going through both the US Senate and the House of Representatives seeks to open the way to a regeneration of offshore aquaculture in the United States.
In Canada Joyce Murray, the newly appointed Minister of Fisheries, Oceans and the National Coastguard, must decide whether to follow her predecessor Bernadette Jordan in taking a hard line on net-pen aquaculture, while the latter's decision to end salmon farming in the Discovery Islands region is currently under scrutiny by the Federal Court.
Meanwhile in Scotland, a new regulatory regime is taking shape. Dr Martin Jaffa's column suggests that the framework being proposed by the Scottish Environment Protection Agency places too much emphasis on the unproven impact of fish farms on wild salmon, while Hamish Macdonell reports that members of the Scottish Parliament appear to be increasingly aware of the industry's importance.
Finally, we focus on a study of the River Carron wild salmon restocking programme, which supports the idea that captive breeding of native stock  genuinely helps to add to a thriving fish population.