The December 2021 issue of Fish Farmer is online now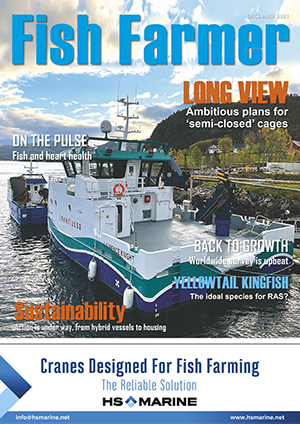 The December issue of Fish Farmer is out now and you can read it online here.
In this month's magazine we celebrate innovation in aquaculture, and the never-ending drive to improve sustainability.
It's been just over a year since what was then the Scottish Salmon Producers Organisation, now Salmon Scotland, brought out A Better Future For Us All. This was the document that set out an ambitious manifesto for sustainability in the industry, and in this issue of Fish Farmer we look at how those pledges have been put into action over the past year.
Also in this issue, we talk to two innovative figures in aquaculture. Stewart Hawthorn is Chief Executive with Loch Long Salmon, which is currently going through the planning process for a proposed semi-closed fish farm in the west of Scotland.
Hawthorn argues that the technology being applied to this site will address many of the issues that currently make approving new farms a challenging process.
We also profile The Kingfish Company, which is about to start construction of a new recirculating aquaculture systems farm in Maine for yellowtail kingfish, to replicate its already successful model operating in the Netherlands.
CEO Ohad Maiman was new to fish farming when he conceived the business plan, but his experience as an investment manager looking at future opportunities convinced him that land-based aquaculture is a sector with enormous potential.
We also learn that lumpfish can be bold or shy; that while salmon may be good for our hearts, they have cardio problems of their own; and that aquaculture is making great steps in reducing the use of antibiotics – which in turn helps human health.
Nicki Holmyard reports on an initiative to promote innovation in English aquaculture and Salmon Scotland's Hamish Macdonell calls for an appreciation of tolerance and nuance this Christmas.